Science or sci-fi? The ignorance about dinosaurs in India
Hindustan Times |
Ashok Sahni
Jun 30, 2018 09:32 AM IST
The film Jurassic Park created a mass awareness about and interest in the prehistoric being.
The novel by Michael Crichton, on which the film Jurassic Park was based, was meant for the Western world where dinosaurs are part and parcel of daily life. Children grow up there with cartoon characters, some of who are iconic dinosaur species such as T-Rex and Brontosaurus. Schools take children on regular visits to nearby natural history museums where dinosaurs occupy prime space. There is also a lot of media coverage on facts about dinosaurs. From age six-seven the average child is well aware of dinosaurs – at least the basic fact that dinosaurs don't exist anymore, but are interesting, fun fossils!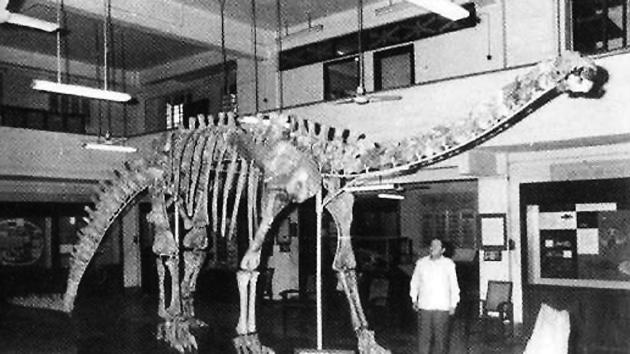 Compare this with our country: At the risk of generalisation, I must say that even the so-called educated adult doesn't always know what a dinosaur is, whether it is even real or a fantasy creature. The film Jurassic Park, when it was screened in India, added to this confusion as it showed men and dinosaurs together on screen! But there was a silver lining: it encouraged a section of young Indians to find out more about dinosaurs. It was screened in Hindi as well as in English and thus accessible to a much larger audience. A new group of young Indians, not just those educated in English-medium schools, was at once exposed to a new world, new concepts, new ideas: what are fossils; what is amber; can mosquitoes become fossilised, what is DNA replication; is it science or science fiction?Many believed the film literally, some treated it as a distinct scientific probability and others dismissed it as a fantasy on par with the Godzilla and the King Kong movies. That dinosaurs were found in India and dinosaur fossils were first discovered in India at the Jabalpur Cantonment as far back as 1828 – the earliest record in all of Asia – was a fact that most were unaware of.
The Age Of Awareness
In the last three decades, Indian dinosaurs have become better known. This modern era of awareness actually started before the release of Jurassic Park. In the 1970s a small band of dedicated palaeontologists from the Indian Statistical Institute (ISI) in Kolkata, after nearly ten years of meticulous field work, were able to mount a skeleton of a gigantic herbivorous dinosaur, Barapasaurus tagorei in their own premises. Though, even today, very few have been able to see the reconstructed magnificent beast as the ISI portals are not routinely open to the public! Another mounting of a similar dinosaur, Kotasaurus, was organised in the Birla Science Centre at Hyderabad and was carried out by the Geological Survey of India.
But the film Jurassic Park created a mass awareness about and interest in the prehistoric being.
The Indian fossil record of dinosaurs is very good – starting with the small agile dinosaurs in the Triassic period (a geological period that started 251.9 million years ago and continued till 201.3 million years ago), to the ponderous giants of the Jurassic era (201 million years ago to 145 million years ago) which succeeded it, and the greater diversity in the Cretaceous years (from 145 million years ago to 65 million years ago), when globally all dinosaurs and 65 per cent of all life became extinct. There are two main competing theories on how the extinction may have happened at this same time.
One is that an asteroid hit the Earth, the impact of which churned the water and pulverised the rocks. The ejecta blocked the solar radiation from reaching the Earth. The second is that there was an intense and extensive volcanic eruption in the Deccan, spewing ash and gases which also blocked solar radiation. Both events would have generated toxic gases, causing acid rain, with the same effect on existing vegetation. If sunlight did not reach Earth for a few weeks, most plants would have died and only the hardy ones like ferns would have survived. This would have caused the food cycle to collapse, and animals, especially the bigger animals, would have died from lack of food. The fossil record supports such a scenario.
The Indian Dinosaur
In India, 25 to 30 genera of dinosaurs are known, depending on how experts wish to club or split the population. In the 1980s dinosaur eggs and nests were discovered along the western boundary of Kutch in Gujarat, through Rajasthan, Madhya Pradesh, Maharashtra and Telangana, a geographic record that replicates the finds of dinosaur bones. These constituted the single largest laying ground in the Cretaceous period globally.
But because of the relatively low level of awareness about dinosaurs in our country, we are often callous about our fossil finds . Vandalism of fossils is rampant and Indian dinosaur eggs are being sold openly for profit. Palaeontology is declining in universities along with other basic science studies. At times, though, I am pleasantly surprised at the interest and knowledge that some young children have acquired, most of it through Internet research.
For example, while establishing a museum on dinosaurs in Chandigarh, a young man pointed out a mistake I was making in one of the classification schemes. For me as a teacher, that was a moment of crowning glory. There are many young people like him, eager, confident in the knowledge that they have assimilated through their own efforts. I receive many emails from the relatives of such children asking for more information on dinosaurs and describing "finds" that they have made. But these continue to be more or less individual efforts. During building of this same gallery on Indian dinosaurs, I came also across an example of extreme ignorance. A fibre glass skull of Triceratops (a kind of herbivorous dinosaur) was being transported from its manufacturer in Ambala to the Government Museum in Chandigarh when it was stopped on its way on suspicion that it was an original. It was then sent to the local civil surgeon where it was broken into several pieces before it was realized that the exhibit was not real!