SIT to probe Rohtak gang-rape, mutilation of woman beaten to death with bricks
Updated on May 15, 2017 10:51 AM IST
A 20-year-old girl was beaten to death with bricks and her private parts mutilated by her jilted lover and his associate.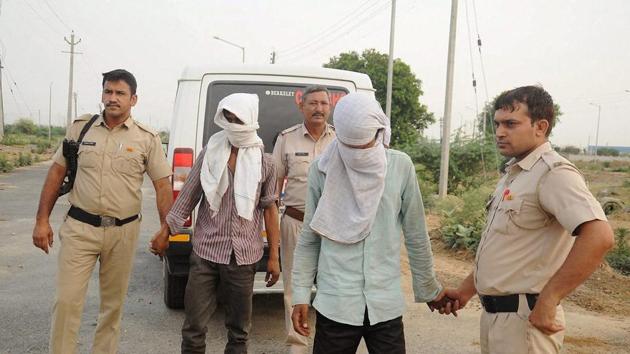 The Sonepat police have constituted a special investigation team (SIT) to conduct further probe into the gang-rape and murder of a 20-year-old girl, who was beaten to death with bricks and her private parts mutilated by her jilted lover and his associate.
Rohtak range inspector general (IG) Navdeep Virk said they arrested two men — prime accused Sumit Kumar and his friend Vikas — but the family has given names of six more men who could be involved. "We are interrogating them to find out if more people were involved. Though the accused have confessed during interrogation that they were not accompanied by any one," he said.
"Since there were no eye-witnesses, everything that is being said is a matter of investigation," he maintained, on being asked about the course of events that led to the brutal killing.
He said that a .315 bore pistol and a Santro car that was used in crime has been confiscated from the possession of the two accused. "A case under Sections 302 (punishment for murder), 328 (causing hurt by means of poison) and 376 D (rape) of Indian Penal Code and Sections 25, 54 and 59 of the Arms Act has been registered against the duo," he said.
Earlier on Sunday, state politicians of the governing BJP and opposition Congress made a beeline at the victim's village. They included Haryana BJP chief Subhash Barala, women and child development minister Kavita Jain and former CM Bhupinder Singh Hooda.
Sonepat deputy commissioner KM Pandurang said they will provide Rs 10.5 lakh compensation to family.
Family claims cops didn't act on earlier complaint
Meanwhile, the family members of the 20-year-old have said that they had complained about her jilted lover to local police three months earlier as well. However, no action was taken against him.
"He would stop my daughter's way many times and intimidate her with his pistol. My daughter had slapped him a few days ago over his act. He had said that he will come back for revenge, which he did. Had the police arrested him when we had lodged a complaint against him three months back, this would not have happened," said the mother of the victim, still in shock over losing her daughter.
The police, however, said they could not recollect the complaint. "The family is saying so. But we can't find any written complaint made by them in our records," Virk said.
The girl's family, who live in a 25-gaj house in the village, said they had educated their daughter till Class 10.
"She worked in a medicine factory a kilometre away from village and earned around Rs 5,000 per month to run the household," her father, a migratory labourer, said.
Unable to cope up with the loss of her daughter, the bereaved mother has now started fearing for her son.
"Since my daughter went missing, I have not let my son stay with me here anymore. They may take him as well," she fears. The police said they have deployed security for the family in the village.