Jilted lover rapes woman with friend, beats her to death with bricks in Rohtak
May 15, 2017 10:51 AM IST
The crime has jolted Rohtak, which was shaken by the rape and murder of a mentally challenged Nepalese woman in the district in 2015
A 20-year-old woman was allegedly gang raped and killed in Haryana's Rohtak by her jilted lover and his friend, who smashed her face with a brick and crushed the body under the wheels of their car to conceal her identity, police said on Saturday.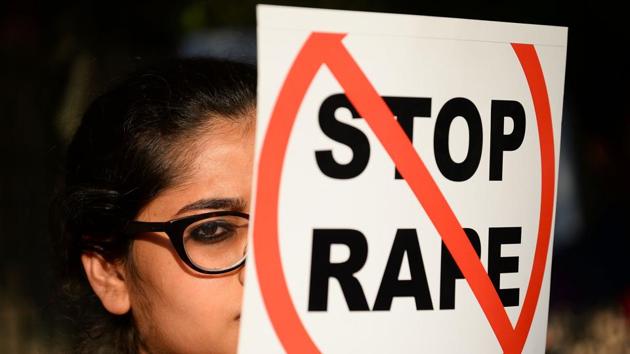 Stray dogs had eaten the victim's face and lower portion of her body which was spotted by a passerby in an secluded area of the city in Haryana on May 11, police added.
The two accused, Sumit Kumar from Sonepat and Vikas from Uttar Pradesh, have been arrested.
The victim's private parts were also mutilated by the accused, police said, adding that sedatives were found in her stomach during the post-mortem. The incident took place on May 9.
The incident took place weeks after the Haryana government launched a special drive teams called 'Operation Durga' to stop harassment of women in public places in the state, which has one of the worst sex ratio in the country.
A few days ago, Supreme Court upheld the death sentences to four men convicted of brutalising and killing a paramedical student in Delhi in 2012. The incident had sparked massive protests by students, forcing the government to overhaul laws governing rape.
Congress president Sonia expressed shock over the Rohtak incident and said the issue of women's safety needs to be revisited.
Sonepat city station house officer Ajay Kumar said Sumit admitted during questioning to have raped and murdered the woman.
"He said they were close once, but not together anymore. He said an argument broke out between them and he committed the crime in anger," said Kumar. The accused were sent to two-day police remand by a court on Saturday.
The murdered woman's parents alleged that Sumit had been forcing their daughter to marry him and had assaulted her earlier too. They demanded capital punishment for the accused.
"Uska itna bura haal kiya.. aisa kisiki beti ka nai hona chaiye…sarkar kehti hai beti paida karo aur ye darinde aise hatya karne lag rahe hain…(Such brutality should not happen with anyone's daughter..the government promotes girl child birth while these goons are so brutally killing them," the victim's mother said.
She also demanded capital punishment for the accused.
"Bring them in front of me…I want to kill them with my own hands..they deserve only death..only and only death," she said.
The crime jolted Rohtak, which was shaken by the rape and murder of a mentally challenged Nepalese woman in the district in 2015. A court awarded death penalty to seven men convicted in the case.
"This savage and bone-chilling incident has shocked the conscience of the nation, reminding each one of us about the crying need for revisiting the important issue of women's safety and security," Gandhi said in a statement.
Haryana is ruled by the Manohar Lal Khattar-led BJP government.
(With agency inputs)