Subsidies may be a hidden culprit in India's farm crisis
Nov 02, 2018 11:33 AM IST
Every Rs 10 lakh invested in farm research pulled 328 people out of poverty; 26 people were helped by the same amount spent on subsidies.
Are Indian farmers paying a price for sweeping agricultural input subsidies they enjoyed for decades and which they have taken for granted, from virtually free power to extremely low-priced fertilisers? Data from a landmark new research seem to suggest so.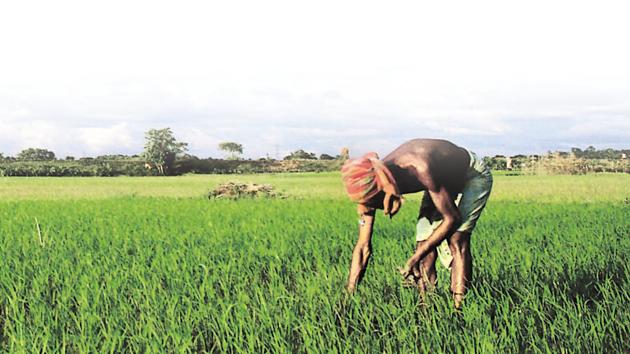 The research, by economist Ashok Gulati and his colleagues of the think tank Indian Council for Research on International Economic Relations (ICRIER), claims that governments have raised inefficient input subsidies over the years, which, in turn, have virtually turned the tap off for new investment. This has had the effect of choking off agricultural growth and slowing poverty reduction, it adds.
Stay tuned with breaking news on HT Channel on Facebook.
Join Now
Elementary economics states that growth is a function of investments. While agriculture tends to swing from one problem to the other, farmers are currently battling a politically challenging spell of poor returns. These problems are related to long-standing trends of a heavily subsidised agriculture sector, according to empirical evidence from the research study titled 'Supporting Indian Farms the Smart Way'.
For instance, while unsustainable power and fertiliser subsidies have led to higher production, lack of investment in market infrastructure has meant farmers often suffer huge losses.
Since capital, or resources, are always limited, rising subsidies have squeezed out funds available for capital formation, an economist's jargon for investment. This is a key reason for keeping agricultural growth and, consequently, farm incomes low, the study argues.
"If one looks at the overall public resources being spent on agriculture, one is amazed that three-fourths of the resources go primarily as subsidies on things like fertiliser, power and irrigation, while only one-fourth goes into investment," said economist Uma Kapila, editor of 'Indian Economy Since Independence'.
The Narendra Modi government on July 4 announced hikes in federally fixed minimum support prices (MSP) for 13 summer crops (MSPs are meant to be threshold profitable rates). The hikes ranged from about 11.3% for paddy to 52.5% for ragi. Since markets aren't willing to offer that price, the government has promised to bankroll farmers' incomes by pumping more subsidies to buy the produce. According to Gulati, arbitrary increases in MSP by completely "ignoring the demand side" only accentuates farm crisis. It's akin to making a product – say a car or an apartment – 50 times more expensive, without any buyers willing to pay that high a price.
Over a 33-year period, public capital formation in agriculture, a measure of investments, has declined from 3.9% of agricultural-GDP in 1980-81 to 2.2% in 2014-15. However, input subsidies on fertilisers, power, water and crop insurance have shot up from 2.8% to 8% during this period.
Adjusted for inflation, fertiliser subsidy rose 15 times over 30 years, irrigation subsidy rose six times, while electricity subsidy has increased 20 times.
"Substantial investment must only come from government. Complementary, smaller investment can and does come from farmers. The perception around the NDA (National Democratic Alliance) government initially was that it would bring bold, substantial agricultural reforms. We don't see that," said economist S Mohana Kumar of the Jaipur-based Institute of Development Studies.
Another landmark study by Shenggen Fan, along with Gulati and Prof Sukhadeo Thorat, shows that agricultural investments in India, however meagre, have been at least 10 times as effective as subsidies in reducing poverty. Fan is director general of the Washington-based International Food Policy Research Institute, while Thorat is professor emeritus at the Centre for the Study of Regional Development at Jawaharlal Nehru University.
Gulati said the highest impact on agri-growth and poverty reduction came from investments in agricultural R&E (research and education), followed by roads and education. Gulati and his colleagues used a well-accepted statistical tool called "multi-equation system" to compare the relative benefits of subsidies versus investments.
The results should be a wake-up call for policymakers. Every Rs.10 lakh invested on farm research potentially pulled 328 people out of poverty. Likewise, every Rs.1 spent on agricultural research and development increased farm GDP by Rs.11.2.
A similar amount spent on fertiliser subsidy brought only 26 people above the poverty line. Likewise, every rupee spent on fertiliser subsidy added only Rs.0.88 to agri GDP. Fan's research, too, points a strikingly similar conclusion. To be sure, fertiliser subsidy hogs the largest share (47%) of all subsidies and the budgetary allocation for it during 2017-18 was Rs.70,000 crore.
According to Prof Nilabja Ghosh of the Institute for Economic Growth, Delhi University, governments realise the pitfalls, but prefer to keep subsidies high for political gains. "It made sense to offer subsidies to spark a green revolution. We haven't got out of the trap because of their political importance. If you withdraw subsides, inputs get expensive and farmers agitate. That's why the transition from a subsidy regime to investment regime has got stuck," she said.