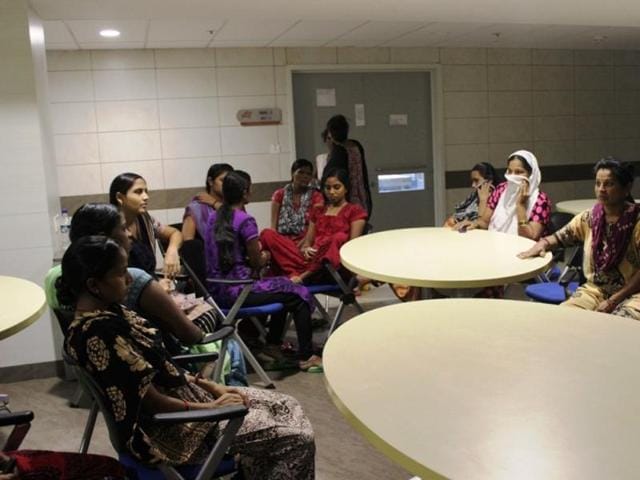 Surrogate 'mothers' cry foul over proposed bill, will write to PM Modi
Gathered in the dining hall of a five-star hospital on the outskirts of Anand town, the 20-odd women in different stages of pregnancy are agitated over the proposed new law banning commercial surrogacy.
UPDATED ON AUG 26, 2016 07:29 PM IST
Gathered in the dining hall of a five-star hospital on the outskirts of Anand town, the 20-odd women in different stages of pregnancy are agitated over the proposed new law banning commercial surrogacy.
These surrogate mothers plan to write to Prime Minister Narendra Modi to protest against the stringent clauses of what they call is an "anti-women" bill.
For hundreds of women like Meena Patel, a second-time surrogate who is nine-months pregnant, bearing a child for childless couples was a "decent'' way out of poverty. For many others, a desperate means of survival. This "delivery" will fetch the 33-year old Meena Rs 4.25 lakh and perhaps upgrade her living condition.
"That woman minister wants to put a ban on surrogacy. But why is the government not taking steps to control inflation? Will they give us jobs and homes?" laments Meena.
Her anger is directed at external affairs minister Sushma Swaraj who on Wednesday announced the Union Cabinet's decision to clear a draft bill that proposes a blanket ban on commercial surrogacy, allowing only close women relatives to help couples, that too only wedded and of Indian nationality.
Most women who come to rent out their wombs in the "baby factories" of Anand, made famous as the cradle of surrogacy in India, are from families that barely make ends meet.
"They call us baby-making machines. But they will not call us that when we bear our husband's child one after another. For us, there is little difference between the two," says Vandana Yusug, a 30-year-old who delivered a child for a foreign couple two years ago and now works at this same hospital.
"Which other work will earn us lakhs of rupees in nine months? If I continue to work as a daily wager, how will my husband and I support our two children's food and education with our total income of just Rs 5,000?" wonders Kailash Solanki, 30, a second-time surrogate.
Read: India proposes commercial surrogacy ban; live-ins, homosexuals worst hit
Countering the government's argument of "exploitation" of poor women in the name of surrogacy, 35-year-old Divya Patel, a nine-month pregnant surrogate from Ahmedabad, says if the government was really concerned about them, then the bill should provide enhanced compensation for delivering a surrogate child. "We should be paid more. The government should think about us on these lines too," she adds.
These 20-odd women are among the 58 surrogates currently lodged at the Akanksha Hospital and Research Institute, under the care of Dr Nayana Patel, a pioneer in commercial surrogacy and related medical tourism in India that has brought thousands of foreign and NRI childless couple to Anand.
A surrogate stays here from the time the fertilisation treatment starts till the day of delivery. Their medical expenses, boarding and lodging are all sponsored by the "client" couple. The entire basement houses the special ward with 150 beds. Each room accommodates six surrogates and has wall-mounted TVs. The first floor has dormitories where children of surrogates can stay, if required.
In the past 13 years, Dr Patel has overseen 1,021 surrogate deliveries by over 200 poor women from Anand, Vadodara, Ahmedabad and nearby areas.
And it is not just these women "volunteers" who have prospered from Anand's "baby bazaars". There is a long chain of service providers ranging from medical stores, hotels and home-stays to private taxi operators who thrive on this business from Indian and foreign couples of over 40 countries.
Dr Patel says commercial surrogacy should be not be banned but regularised through registration of doctors and clinics, with clear guidelines for protecting the interests of surrogates. Also, she believes that a blanket ban will only help illegal surrogacy to thrive.
"Besides, what about women who for some medical reasons cannot become mothers? There will be more cases of suicides and divorce if commercial surrogacy is banned completely," she adds.
Close