India proposes commercial surrogacy ban; live-ins, homosexuals worst hit
Updated on Aug 24, 2016 11:08 PM IST
External affairs minister Sushma Swaraj said only Indian citizens will be allowed to avail surrogates as she unveiled a new bill governing surrogacy and criticised what she called the "celebrity culture" of getting children through this process.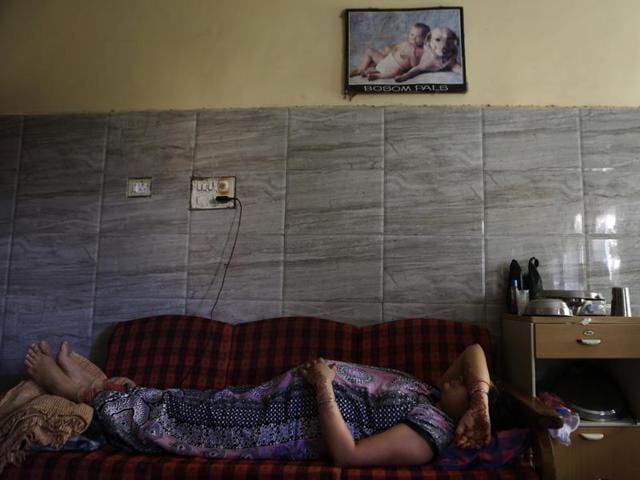 India unveiled a draft law on Wednesday to ban commercial surrogacy, deciding to block foreigners, people of Indian origin, single parents and homosexuals from having children through the rent-a-womb service.
Foreign minister Sushma Swaraj, who made the announcement at a press conference, linked the law to Indian ethos.
"We do not recognise live-in and homosexual relationships….this is against our ethos," Swaraj said after the Union cabinet cleared the bill to regulate the industry, estimated at more than Rs 3,000 crore annually.
Only infertile couples who have been married for at least five years can seek a surrogate, who must be a close relative, said Swaraj who headed a group of ministers that reviewed the surrogacy regulation bill that aims to end exploitation of poor women. Close relatives "could include a sister or a sister-in-law or a daughter-in-law", she said.
Infertility specialists were critical of the law, saying it could lead to an illegal surrogacy industry. The draft law is also likely to face opposition from surrogate mothers who had staged demonstrations last year after a government announcement to ban foreign couples from hiring Indian surrogates.
The process of surrogacy is achieved through in-vitro fertilization, commonly called IVF, in a lab where eggs harvested from a woman are fused with sperm from a man. Healthy embryos are transferred to a surrogate mother, who is paid in advance, besides a monthly stipend until the birth of the baby. The child is then handed over to the couple who commissioned the birth.
Swaraj said only altruistic surrogacy, where the expecting parents pay for the medical procedure and not the surrogate mothers. Single women will not be allowed to become surrogate mothers.
The minister was also critical of what she called a "celebrity culture", apparently hinting at actor Shah Rukh Khan whose third baby was born through surrogacy in 2013, triggering an ethical controversy.
"It has become a culture among celebrities. For them, getting a child through surrogacy has become a fashion, a trend… not a necessity," Swaraj said.
HT Special: The half mothers of Anand, India's surrogacy centre
The government plans to bring the bill, that will allow a woman to act as a surrogate mother only once in her lifetime, in the winter session of Parliament. The law also fixes the age of commissioning parents -- female between 23-50 years, male between 26-55 years.
The government move drew criticism from experts and activists.
"It will result in total death of surrogacy, driving the industry underground. Infertile couples for whom assisted reproductive technology provides hope will be the worst hit. What if both the partners are single child?"asked Dr Nayna Patil, medical director of Akanksha Hospital and Research Institute, which runs one of India's oldest surrogacy clinic in Anand, Gujarat.
Advocate Anurag Chawla of the Delhi-based Surrogacy Laws described the law as "too tough" poor for women who rent their womb for improving their financial condition.
While commercial surrogacy is banned in countries such as United Kingdom, Canada, and France, it has exploded in India over the past decade with many couples, especially foreigners, flocking to the country, partly because its doctors and clinics broker the service at a relatively low cost.
The draft bill makes it mandatory for all surrogacy clinics to register with the government. Violaters will face jail term of five years and a fine of Rs ten lakh.
Abandoning a child born out of a surrogacy procedure by a commissioning parent has also been criminalised, inviting a 10-year jail term and Rs 10 lakh fine.