'Save the country', says Chandrababu Naidu; meets Rahul Gandhi on mission Opposition unity
Andhra Pradesh chief minister Chandrababu Naidu addressed a press conference with opposition leaders Sharad Pawar and Farooq Abdullah, alleging a "danger to democracy," and urging parties to strengthen a united opposition to take on the BJP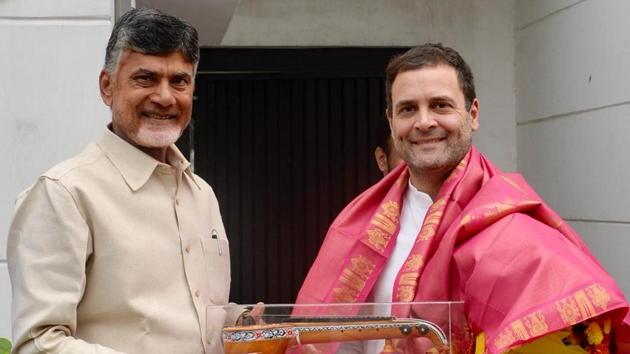 Updated on Nov 01, 2018 06:25 PM IST
Andhra Pradesh chief minister and TDP chief N Chandrababu Naidu is meeting Congress president Rahul Gandhi as part of the effort to unite opposition parties against the BJP for 2019. Naidu, who addressed a joint press conference with opposition leaders Sharad Pawar and Farooq Abdullah minutes earlier, said democracy was in danger and political parties needed to come together.
"We decided to meet in Delhi to chalk out a plan to protect the future of the nation," Naidu said after meeting NCP's Sharad Pawar and National Conference's Farooq Abdullah.
This is Naidu's second visit to the national capital in less than a week. He was in Delhi at the weekend and met other opposition leaders like Delhi chief minister Arvind Kejriwal of the Aam Aadmi Party and Bahujan Samaj Party chief Mayawati and several others. He had also met former union minister Yashwant Sinha.
Read more: Momentous, says Rahul Gandhi after meeting Chandrababu Naidu on Oppn unity
Naidu briefed reporters in his state last night on his scheduled meeting with Rahul Gandhi, saying he was trying to bring like-minded opposition parties together to form an alliance as an alternative to the BJP.
Naidu had exited the BJP-led National Democratic Alliance in March this year over Andhra Pradesh not being granted special status. On Wednesday, he accused of Prime Minister Narendra Modi of betraying the people of Andhra Pradesh by "going back on the promise to undo injustice done to them with the bifurcation of the state."
He also alleged that the BJP's policies pose a threat to democracy in the country. "I have taken the responsibility to save the country from this threat. It is the duty of all to save the country," he said.
Naidu claimed that he was twice offered the post of prime minister, but he had refused. Now, he said, the time had come for the TDP to again play a key role in national politics.
Today's is the Andhra Chief Minister's first meeting with the Congress president, though the two had shared stage at the swearing-in ceremony of Karnataka chief minister HD Kumaraswamy in May this year.
Later today, Naidu is also expected to meet leaders of Left parties.
Naidu's party and the Congress have already allied in Andhra Pradesh neighbour Telangana, where assembly elections will be held early next month. The Congress is expected to contest 90 out of the state's 119 assembly seats, with the Telugu Desam Party (TDP), Telangana Jana Samithi (TJS) and the Communist Party of India (CPI) likely to contest the remaining 29 seats as they take on the Telangana Rashtriya Samiti.
Andhra Pradesh votes for a new assembly in 2020.
(with IANS inputs)
Close Story