US-educated Kashmiri engineer sets up high-density apple orchard in Leh
Khuram Shafi, an engineer from Purdue University in America, is setting up the orchard at Himalayan Institute for Alternate Learning (HIAL) University, an initiative by Sonam Wangchuk, who inspired '3 Idiots'.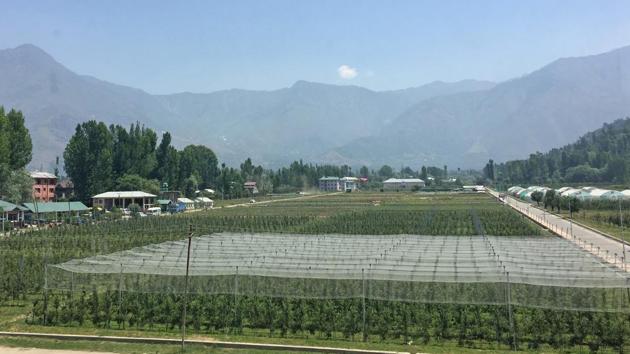 Updated on Jun 05, 2018 03:36 PM IST
Hindustan Times, Srinagar |
, Srinagar
Mir Ehsan
In a first, an effort to grow world-class apples in one of the coldest regions of the country has begun with the setting up of an apple orchard, which has high density plants, in Phyang village around 19 kilometre from Leh.
The apple orchard is being established by Khuram Shafi, an Industrial System Engineer, Operations Research from Purdue University, US, in collaboration with the Sher-e-Kashmir University of Agricultural Sciences and Technology (SKUAST).
The orchard has been set up at the newly established campus of the Himalayan Institute for Alternate Learning (HIAL) University — an initiative by Sonam Wangchuk, who inspired 3 Idiots movie.
"We have planted an apple orchard in this cold region. In the first phase, we planted 264 — Gala Redlum, Red Vilox, Fuji and Golden reindeers — varieties of apple trees,'' said Khuram, who hails from Shopian.
"To make it successful, we changed three layers of soil on the barren land. Besides, strong trellis system connected with drip irrigation system that will get water from ice stupa, an innovation by Sonum Wangchuk,'' Khuram said, who became the first private entrepreneur to establish high density orchard at Bamdoora in south Kashmir.
He has already planted high density trees across Kashmir on over 2,000 kanals of land. "It is a big challenge and hopefully its going to yield us good results,'' he said.
"We may have some issues here, hopefully, we are going to tackle them, especially about pollination and the wind speed,'' he said.
When Khuram met Wangchuk
The idea of this orchard in Leh struck in Khuram's mind when he had a chance of meeting Sonum Wangchuk in May. "We discussed this idea and after some groundwork the orchard has been established,'' he said.
Game changer
SKUAST (K) vice-chancellor professor Nazir Ahmad termed it a game changer for the entire region. "We had planted some high density trees earlier in Ladakh and those have been successful. I am sure this will be a successful project and in coming future, we will have a number of high density apple orchards right from Kargil to Leh, which will give boast to economy of the region,'' he said, adding that experts of the university are positive about this project.
"Though few local varieties of apple already grow in this region. In coming years, focus of apple could shift into Ladakh region due to climate change and the region could emerge as a future for Jammu and Kashmir apple development as well,'' VC said.
Aim to increase demand of J&K apples
Ahmad, a self-proclaimed horticulturist and head of the task force for high density plantation, said, "In India, by 2050, our demand for apples will be up to 160 lakh metric tons. And currently, Jammu and Kashmir, Uttarakhand and Himachal Pradesh are producing 35 lakh metric tons. This is the time when we should switch over from traditional orchards to high density plantation.''
In Kashmir, government in collaboration with the private players have already managed to convert hundreds of kanals of traditional orchards into high density orchards and these orchards are fetching good harvest for the growers.
"Our major thrust now is towards high density plantation. So far, we have been able to establish these orchards on a very less scale if we compare it to 1,62,000 hectares. For the next five years, we are planning to reach 5,000 to 10,000 hectares,'' Vinay Dutta, assistant director, horticulture department said. "The traditional orchard has a yield of 10-12 metric per hectare annually while high density orchard could go up to 40 -50 metric ton per hectare and quality wise these apples also could compete any foreign variety.''
Locals adopt new developments
Growers too have realised the importance of high density orchards and change has begun.
"In 2016, I converted my traditional orchard on 6.5 kanals of land into high density orchard and after one year I had a harvest of 650 apple boxes and each box was sold at ₹1,000 to 1,100. This year, I am expecting a yield of around 1,000 boxes,'' Javeed Ahmad Dar of Akhal village in South Kashmir's Pulwama district said.
J&K's minister for horticulture Bashaarat Bukhari said introducing high density apple plants are yielding positive results. "This process was started by private parties at certain places. We provide 50% subsidy to the growers while 50% of costs are borne by the growers.The current turnover of horticulture is pegged at ₹9,000 crore and state has a potential of ₹40,000 to 50,000 crore,'' he said and added that government has decided to establish five high density apple nurseries this year.
Topics
Close Story