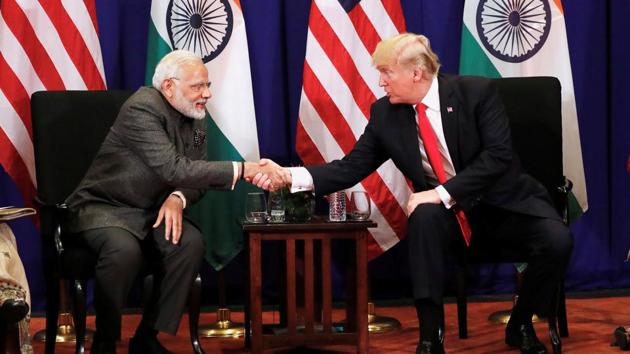 US move to scrap preferential trade status unfortunate: Government
Congress attacks Centre, says the decision will have grave trade and economic implications
Hindustan Times, Washington | By Yashwant Raj
UPDATED ON JUN 01, 2019 11:56 PM IST
The United States on Friday formally terminated India's eligibility for a duty-free import scheme for developing countries, effective June 5, saying it has not given assurances it "will provide equitable and reasonable access to its markets" to US companies as required under relevant American trade laws.
The move was downplayed by India's commerce ministry, which said on Saturday that India will continue to seek to build strong economic ties with the United States and that it was "unfortunate" that attempts to resolve significant US requests had not been accepted.
Officials had previously raised the prospect of higher import duties on more than 20 US goods if Trump dropped India from the programme, but there was no mention of that in the response.
"India, like the US and other nations shall always uphold its national interest in these matters," the government said in a statement issued through the trade ministry.
The impending American termination was previewed on Thursday by a senior administration official, who described it as a "done deal" and said it was time for the two countries to move on, and try to resolve other trade irritants. The official had, however, left open the possibility of restoring these benefits if and when India complied with American demands for greater market access to its dairy products and medical devices sectors.
"I have determined that India has not assured the United States that India will provide equitable and reasonable access to its markets," US President Donald Trump said in a proclamation issued on Friday. "Accordingly, it is appropriate to terminate India's designation as a beneficiary developing country effective June 5, 2019."
The presidential proclamation did not mention it, but the senior administration official who had previewed the coming termination had left the door open for putting India back on the Generalised System of Preferences (GSP) programme and restore its duty-free benefits if India was able to "achieve the reforms in market access that we need under this programme".
President Trump had conveyed his intention to terminate India's eligibility for the programme to the US congress on March 4. And the formal termination became due on May 4, after the mandatory 60-day notice period.
But the administration held off on the proclamation as India was in the middle of elections and there was pressure from US lawmakers, from both parties, to delay the termination to allow more time for negotiations. There was an expectation that India could avert the termination if it agreed to US demands for more market access.
But the Trump administration had concluded much before, according to people close to the developments, that India would not be able to deliver no matter how much additional time it was given. But it agreed to wait for the elections to get over, and announced the termination just a day after Prime Minister Narendra Modi began his second term. No talks were underway at the time contrary to public assurances by Indian officials.
This US action presents the first major challenge for the new Modi government on relations with the United States, as there is talk the Trump administration might not stop at this and could be considering even more precipitate actions in line with the President's tough posture on trade.
India has been the biggest beneficiary of the GSP programme, which allows certain imports from 120 countries to enter the United States at zero tariff. US imports from India under GSP were an estimated $6.3 billion worth of goods in 2018 , according to a report by the Congressional Research Service, a non-partisan source of research for US lawmakers.
Withdrawal of zero-tariff benefits would subject these products, presuming their volumes remain unaffected, to $190 million, according to official Indian estimates. But people familiar with these discussions have said there are fears that the new tariffs could make these products costlier for US importers, who could then switch to other cheaper alternatives to keep down their prices.
(with HTC inputs from New Delhi)
Close