Voting on religious lines, Bengali speakers may help BJP, Congress win in Assam
The ongoing polls to the 14 Lok Sabha seats in Assam is seeing a trend where Bengali speaking Hindus and Hindi speakers appear to align with the BJP while Bengali speaking Muslims, particularly in lower Assam, prefer Congress over AIUDF.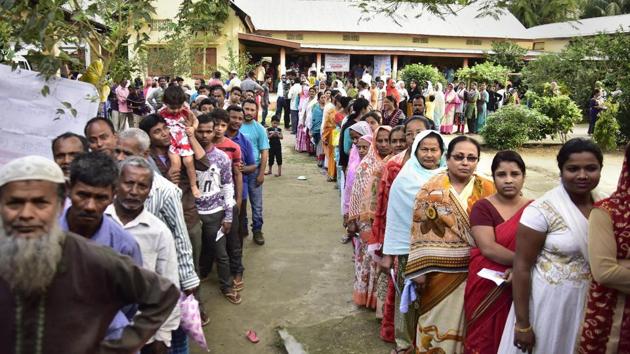 Updated on Apr 21, 2019 10:22 AM IST
Hindustan Times, Goalpara/Barpeta/Dhubri |
Utpal Parashar/Sadiq Naqvi
As they wait on the sidelines of an election rally at Gauripur in Assam, three local residents discuss the elections and the prospects of the main contenders for the Dhubri Lok Sabha seat in Assam which will go to polls on April 23.
The three, all Muslims—one a teacher in a local madrassa, another a small time trader and the third a state government employee—focus their attention on sitting MP from the seat, All India United Democratic Front (AIUDF) chief Badruddin Ajmal, who is expected to reach the venue soon.
"Ajmal has done a lot for us and raised our concerns in Delhi. He will win easily again," said the madrassa teacher in Bengali. The trader agreed.
The state government employee is sceptical. "It won't be that easy. I hear many voters could prefer Congress over AIUDF. Ajmal may be able to just scrape through," he said.
Names of the three have not been revealed on their request.
Ajmal is facing a contest from Congress's Abu Taher Bepari and Asom Gana Parishad's Javed Islam, who enjoys the support of the ruling BJP and Bodo People's Front.
Lower Assam scenario
The ongoing polls to the 14 Lok Sabha seats in Assam is seeing a trend where Bengali speaking Hindus and Hindi speakers appear to align with the BJP while Bengali speaking Muslims, particularly in lower Assam, prefer Congress over AIUDF.
According to the 2011 language census, Bengali speakers increased from 22% in 1991 to nearly 30% in 2011. During the same period, the number of Assamese speakers decreased from 58% to 48%.
The ongoing updating process of the National Register of Citizens (NRC), where names of 40 lakh applicants were left out of the final draft, and the Citizenship Amendment Bill (CAB), which seeks to grant citizenship to Hindus, Jains, Buddhists, Sikhs, Christians and Parsis from Bangladesh, Pakistan and Afghanistan, could swing these voters.
"The NRC draft left out names of lakhs of Bengali Hindus. Since BJP has promised to implement CAB, these people see a ray of hope of getting included in the final NRC. Many of these Bengali Hindus will vote for BJP," said Biplab Saha, a resident of Howly in Barpeta district.
Ajmal's brother Sirajuddin was the sitting AIUDF MP from Barpeta. But this time the party has fielded Hafiz Rafiqul Islam who is facing a challenge from Congress's Abdul Khaleq and AGP's Kumar Deepak Das, who has the support of BJP and BPF.
"We tried and tested Ajmal's party, but this time most Muslim voters in Barpeta are likely to support Congress, a party which they feel will thwart attempts to implement the CAB," Asif Jalal, a resident of Barpeta said.
While indigenous communities in Assam fear implementation of CAB would lead to influx of Bangladeshi Hindus, Bengali Hindus in Assam feel the legislation would help them remove the tag of 'suspected foreigner'.
The Bengali Muslims, on the other hand, feel if CAB, which seeks to grant citizenship to religious minorities who entered India till December 2014 (unlike the NRC, which has March 24, 1971 is the cut of date to detect illegal immigrants) is implemented, it would be used to harass them.
The scenario is different in Lok Sabha seats in upper Assam, where polling took place in 5 seats on April 11. In the second phase on April 18, polling took place in another 5 seats.
The third phase on April 23 would witness polling in 4 seats—Barpeta, Guwahati, Dhubri and Kokrajhar.
What the figures say
According to the religious census of 2011, Muslims comprise 34.22% of Assam's total population. Though a small section of them in upper and central Assam are Goriyas and Moriyas (who speak Assamese) most are Bengali (or Sylheti-a Bengali dialect) speakers residing in Barak Valley and lower Assam.
Muslims are a majority in 11 of Assam's 33 districts and their votes, especially Bengali speakers, would be crucial in Barpeta and Dhubri—two of the four seats where polling will take place on April 23.
Unlike upper Assam, where Muslim votes are not a deciding factor, the scenario is different in seats like Dhubri and Barpeta where Muslims comprise 79% and nearly 70% of the total voters.
AIUDF was formed in 2006 by perfume baron Badruddin Ajmal after the Supreme Court scrapped the Illegal Migrants (Determination by Tribunal) Act. Fears among Bengali speakers, many of whom had migrated over many decades from Bangladesh, that they would be persecuted due to the move, led to AIUDF's rise.
The party won 18 seats in the 2011 polls emerging as the second largest party after the Congress. In the 2014 general elections, it won 3 of the 6 seats it contested. However, in 2016 assembly polls, the party managed to get 13 seats—five less than 2011.
Inability to take up causes of the Bengali Muslims and allegations of nepotism and inaccessibility of the top leadership led to erosion of its core base. Ajmal himself lost from the South Salmara seat in the 2016 assembly polls. In Panchayat polls held in December 2018, AIUDF secured only 26 Zila Panchayat seats, 65% less than what it won in 2013.
Realising the party's current state, AIUDF fielded candidates in just 3 seats in 2019. Ajmal maintains the move was part of a "gentlemen's agreement" between the two parties aimed at "stopping BJP" so that there's no division of secular votes. The Congress denies any such pact.
In upper and central Assam, the votes of Bengali Muslims are crucial in the four seats in lower Assam which goes to polls on April 23.
Upper Assam equation
On the North Bank of the Brahmaputra river in Arnichar Basti, tucked around ten kilometres inside from the highway in upper Assam's Dhemaji district, Gopinath Sikdar seemed clear about his preference for BJP.
He is among the few Bengali speaking Hindus who settled in this village a few decades ago from Barpeta in lower Assam. Sikdar, who grows vegetables on a small plot, does not figure in the final NRC draft.
His father was killed when the Bengali speakers came under attack at the peak of the Assam Agitation against Bangladeshi migrants in 1983 from mobs belonging to indigenous communities.
"In Assam, suspicion of a Bengali being a foreigner starts as soon as he is born. This is the reality. You can't blame PM Modi for it," he said adding he used to vote for the Congress earlier.
In Dibrugarh, people belonging to the Marwari trading community who have settled here for decades complain of extortion from some local groups. Yet, most of them voted for the BJP.
"It is not that we are happy. We suffered because of demonetization and GST. But what is the Congress offering? PM Modi is a good leader for the country, said Ajit Bajaj, a businessman in Dibrugarh.
A few kilometres away on the road to Tinsukia, in Chaulkhowa village, surrounded by tea gardens, the Muslim residents seemed unhappy with the BJP.
"We voted for Modi in 2014 for we wanted change. But after five years, we feel there is no peace," said Butul Hussain, a tailor from the Goriya Muslim (indigenous Assamese speakers) community.
"Modi promised he will throw out foreigners. He has not done it. Instead, he is bringing the CAB," said Manik Ali, a timber merchant.
Close Story