Delhi air pollution interrupts play in India vs Sri Lanka Test, visitors wear masks on field
Hindustan Times, New Delhi |
N Ananthanarayanan and Joydeep Thakur
Dec 03, 2017 05:12 PM IST
With worsening pollution levels in Delhi, the third Test between India and Sri Lanka was temporarily held up due to the poor air quality
Delhi's toxic air halted the third Test between India and Sri Lanka for around 20 minutes on Sunday when thick haze brought the visibility down after the lunch interval, arguably the first time an international game was disrupted by pollution. (IND v SL 3rd Test UPDATES | SCORECARD)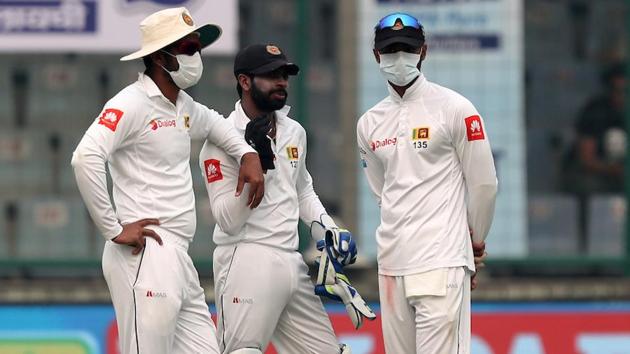 As the Sri Lankan fielders trooped into the Ferozeshah Kotla ground with India skipper Virat Kohli and R Ashwin after lunch, the sun had all but disappeared and several visiting team members were wearing masks.
The Air Quality Index (AQI), a measure of particulate matter in the air rose marginally to "very poor" at 338 from Saturday's 331 on at around 12.30pm but the level of tiny dust particles, or particulate matter (PM), was way above the safe limit.
"The pollution level is in very poor category. This is normal during this time of the year," said MP George, in-charge of the air quality laboratory at the Delhi Pollution Control Committee.
Levels of dust fluctuated according to weather conditions. "But I am not sure whether it is advisable to play in the open wearing masks," he said. The PM10 level was around 3.8 times and PM2.5 3.7 times above what is considered safe.
A severe cyclone over the Arabian Sea had brought clouds and pushed up moisture levels in the national capital region, the local weather department said. Cyclone Ockhi had caused widespread damage in parts of Kerala and Tamil Nadu, killing 22 people.
READ | Virat Kohli's record double century brings in praise from ex-cricketers
Three disruptions
In Delhi, play stopped after Sri Lanka pace bowler Lahiru Gamage doubled up in discomfort after sending down a delivery.
The visiting players got into a huddle while Kohli, waiting impatiently after reaching a career-best 240, lay on the ground and stretched, with his home crowd cheering and hoping for a re-start.
However, the umpires spoke to the Indian batsmen and the Sri Lanka fielders. Though Gamage resumed and dismissed Ashwin off the very first ball, he walked off the field after a while, helped by a support staff members.
The break in play also affected Kohli's concentration as he was out for 243, dashing hopes that the India skipper would go on to get his maiden Test triple century.
With almost all Lankan players wearing masks, play was again halted for around five minutes. India coach Ravi Shastri also walked to the field to have a word with the umpires, Nigel Llong and Neol Wilson, before play got under way.
READ | Rohit Sharma's fifty piles more misery on Sri Lanka in Delhi Test
It was then the turn of Sri Lanka coach, Nic Pothas, as it appeared the visiting side wanted a break in play till conditions improved.
Four Lankan players reportedly vomited, though it was not clear pollution was the cause. But visitors complained of breathlessness and they were reduced to 10 men on the field, halting play for a third time.
With two support staff ready to come in as substitute fielders, Kohli declared the innings to salvage the situation.
In November, Delhi had a week of toxic haze, forcing closure of schools, ban on entry of trucks and construction activity.
Air quality improved for a few days but since last week pollution has been rising again in the city that has one of foulest airs among the world capitals.
Cricket website Espncricinfo reported that the ICC match referee David Boon had consulted a doctor during the longer initial break in play.
'Why the fuss'
But, the Board of Control for Cricket in India seemed miffed with visitors.
"If 20,000 people in the stands did not have problem and the Indian team did not face any issue, I wonder why Sri Lankan team made a big fuss. I will need to talk to the secretary and ask him to write to the Sri Lanka cricket," news agency PTI quoted BCCI acting president CK Khanna as saying.
Test matches, usually held during winter months in Delhi, have been halted in the past due to poor light and smog, but pollution seems to have affected an international game for the first time.
Two Ranji matches were called off last year due to acute smog and smoke.
"We are getting mists in the morning and a partly cloudy sky. Very light rain is expected to hit Delhi-NCR on Tuesday night and Wednesday morning," said Kuldeep Srivastava, a scientist with the regional weather forecasting centre.
High levels of moisture and low wind speed were trapping pollutants, said D Saha, head of the air quality laboratory at the Central Pollution Control Board.