Delhi: Spike in pollution sends elderly, kids to hospital
Updated on Oct 25, 2014 10:53 AM IST
Figures released by the Delhi Pollution Control Committee (DPCC) on Friday showed that the levels of five major pollutants were five to eight times higher than prescribed limits on Diwali.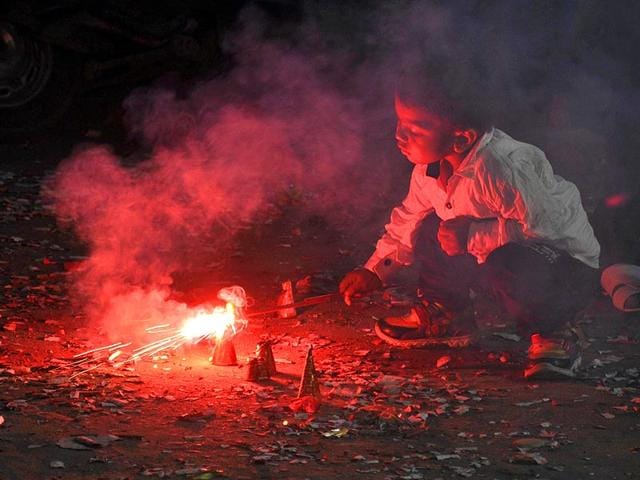 Figures released by the Delhi Pollution Control Committee (DPCC) on Friday showed that the levels of five major pollutants were five to eight times higher than prescribed limits on Diwali.
Several city hospitals told HT that their emergency staff were kept busy on Thursday night attending to complaints of respiratory ailments, especially from the elderly and children.
Calm weather caused the pollutants to hang in the air for longer, exacerbating the situation despite the levels of major air pollutants actually being lower than last year.
The figures released by the DPCC, one of two agencies monitoring pollution levels in the city, are for 24 hours starting 6 am on Diwali day. They show the maximum level of Particulate Matter (PM) 2.5 was 500 micrograms per cubic metre (mpcm) at Civil Lines, nearly eight times higher than the acceptable limit of 60.
PM10 levels ranged between 421 and 790 mpcm, nearly seven times higher than the prescribed level of 100 mpcm. But this was an improvement from 2013, when it ranged between 528 and 1378 mpcm during Diwali.
Despite this, the newly-introduced Air Quality Index (AQI) ranked air quality in most residential locations in Delhi as "severe (extremely bad for health)" primarily because of high levels of PM2.5. PM2.5 is particularly dangerous because it is so fine that our natural lung filters cannot trap it and it can lodge in our lungs, causing asthma, bronchitis, lung damage and, in the long term, even cancer. As the AQI has been introduced this year, the comparison with air quality in previous years was unavailable.
Though prolonged exposure to any pollutant is a health risk, doctors say even short-term exposure is not advisable. "Firecrackers don't only release major pollutants into the atmosphere but also hazardous trace elements like aluminum, lead and magnesium. Short-term exposure, even for a couple of hours, to these toxic metals can lead to long-term health effects," said Dr Randeep Guleria, professor and head, department of pulmonary medicine, AIIMS.
"These pollutants can harm the heart and brain as well. People with existing heart or lung diseases such as asthma, chronic obstructive pulmonary disease, congestive heart disease, or ischemic heart disease are at increased risk of admission to hospitals based on the severity of already existing problem," said senior scientist Dr Gufran Beig of SAFAR (System of Air Quality and Weather Forecasting and Research), which is jointly run by the Indian Institute of Tropical Meteorology and the India Meteorological Department.
Though there is no data yet to make this correlation, a drop in the sale of firecrackers is believed to be one of the reasons behind the reduction in the level of pollutants. "Compared to previous years, the sale of firecrackers has reduced by at least 25 per cent this Diwali. The sale of firecrackers usually touches Rs 150 crore but sales are down this season," said Praveen Khandelwal, secretary general of the Confederation of All India Traders.
An official at the Central Pollution Control Board (CPCB), the second agency that monitors air pollution in Delhi, said this time the police was also strict while issuing licences to vendors and ensured they complied with conditions that crackers meet requisite standards.
"There were only two shops allowed this time as compared to five to seven last year," said Unmesh Sethi, who set up a firecracker shop in Rohini.
Retailers also did not stock as many Chinese crackers, known to be more polluting, this time.
"The demand is also not very high because the price of quality crackers is higher than the Chinese ones which we cannot sell", Sethi added.
Personalise your news feed. Follow trending topics