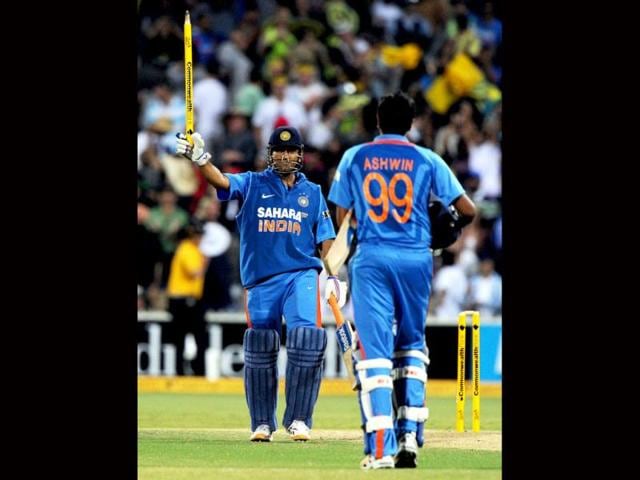 Indians put practice on hold till tri-series fate is decided
Their fate not in their hands, India have put practice on hold depending on how the Australia-Sri Lanka match of the ongoing cricket tri-series pans out in Melbourne tomorrow.
UPDATED ON MAR 01, 2012 11:48 AM IST
Their fate not in their hands, India have put practice on hold depending on how the Australia-Sri Lanka match of the ongoing cricket tri-series pans out in Melbourne tomorrow.
Two days after that amazing 321-run chase inside 40 overs was scripted at Bellerive Oval, the team is pinching itself in disbelief at that mammoth effort for it had all but given up hopes of carrying any further on this disastrous tour -- a few of them had actually booked their return tickets to home from Hobart itself.
But they have some hope now because if Australia beat Sri Lanka, Dhoni's men have a chance to make the finals.
Once again, India were able to win on the shoulders of an individual which has literally been the story of their cricketing history. Little is achieved by team together than by an individual defying all odds and playing exceptionally well.
Kapil Dev did so during the 1983 World Cup with an unbeaten 175; Gautam Gambhir played that astounding 75 in the finals of the 2007 Twenty20 World Cup and Yuvraj Singh stood out in the title triumph of the 2011 World Cup.
Virat Kohli was exceptional in Hobart and the key was how he neutralised Sri Lanka's main weapon Lasith Malinga in that ferocious assault.
Malinga's well-honed yorkers were dispatched to all parts of the ground by the youngster.
The smell of astonishing victory in Hobart has been displaced by the bad odour of team selection for Asia Cup in Bangladesh.
Chief selector Kris Srikkanth actually defended India's performance in Australia, stating if that ball — one of Malinga's over consisted of only five balls in Adelaide -- had been bowled, India might have won rather than settled for a tie with Sri Lanka.
While Dhoni's captaincy skills at the helm, especially in Tests, has been the talking point in cricket circles, Srikkanth hasn't conveyed if the Indian skipper has been asked to brush up his leadership skills.
Or if there was even a concern expressed within the selectors that losing 8-0 was an unprecedented humiliation and they owed it to the nation to have a word with the captain. To the ringside observers, the team for Asia Cup has also served to strengthen one camp to the detriment of other in the dressing room.
Sehwag has been "rested" and Gambhir has been set aside in the captaincy stakes. Dhoni, indeed, has emerged stronger from an utterly hopeless Australian tour.
Contrast this with Australia. They have announced their ODI team for the West Indies. Chairman of selectors John Inverarity has made it public that Mitchell Starc has been dropped but he would still be carried to the Caribbean as part of his over-all development.
The reasoning for inclusion of Brad Haddin and Matthew Wade, two wicketkeepers for a five-match series, was also laid out in details.
India in all probability will make it to the finals. Sri Lankans are down and out. Their destroyer-in-chief, Lasith Malinga has just been taken to cleaners. Like it happens to India without Tendulkar, Sri Lanka of today has no edge if Malinga is marginalised.
But Dhoni's men need to summon all their energy to salvage something from this tour. There is lot that needs to be addressed. They need to sharpen themselves in nets for the pace and bounce of Gabba pitch. They need to have one or two intense fielding sessions.
But they believe watching Australia-Sri Lanka match is a better option.
Close