Free education for 500 girls of 114 villages in Rajasthan's Nagaur
Shri Bangad Mahila College, run by an NGO, Didwana Vikas Parishad Samiti, provides free education, transport, books, bags and accidental insurance to more than 500 students of 114 villages, in and around Didwana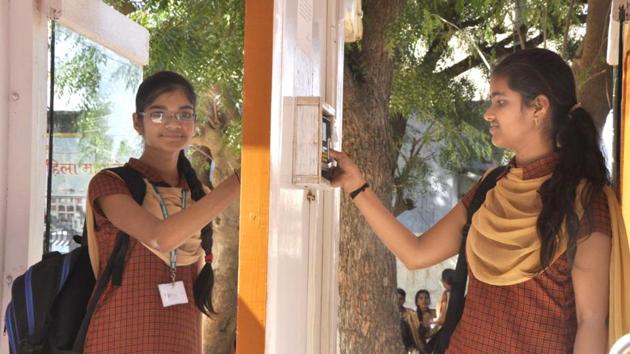 Updated on Jan 02, 2018 09:51 PM IST
With distances adding to the dropout rate, a girl's college in Nagaur's Didwana is providing quality education, safety and comfort for parents who usually are reluctant to send their wards for higher education.
Shri Bangad Mahila College, run by an NGO, Didwana Vikas Parishad Samiti, provides free education, transport, books, bags and accidental insurance to more than 500 students of 114 villages, in and around Didwana.
The use of technology makes the college stand aside--the biometric attendance of girls every morning sends a message to guardians stating their child has reached the college. Similarly, when the girls leave, a message is sent each girl's parent, saying that their child has left from college.
Vandana, who is pursuing Bachelor in Arts from the college said, "My parents were not in favour of co-education and when they heard of the college, they agreed thinking it will be safe."
"A message is sent to our guardians once we mark our biometric attendance," she said.
She also avails the free transport facility provided by the college from her village, Dabra, which is 45 km from the college.
Vandana, the daughter of a farmer, said three other girls from nearby villages also go to the same college with her.
President of the NGO Shankar Lal Parsawat said, "The idea behind starting a college and using technology is to ensure that a girl child continues her education."
"In the rural areas, parents are not comfortable with co-education, therefore chances of dropping out after Class 12 is high."
The college, started in 2007, has a 100% pass out record, he said.
"The girls' education is totally free. We collect ₹ 11,000 for every girl every year from donors. At present, we are running three streams–Bachelors of Arts, Bachelor of Commerce and Bachelor in Computer Applications--more will streams will be added from the coming academic session."
No one can enter the college without identity cards, even guardians visiting students, are issued ID-card, Parsawat said, adding that for security of students, the management has installed metal detectors in the college.
"These initiatives have yielded results as parents have developed faith and started sending their children to the college. Our college has a dress code, which too is provided by the samiti," he said.
"In view of the good work, the state government provided land free of cost to construct the college in 2014."
Commenting on the initiatives taken up by the college, Nagaur district collector Kumar Pal Gautam said: "The college is doing good work and initiatives like sending message to the guardians make parents comfortable. Such moves also help in reducing the dropout rate."
Close Story
Personalise your news feed. Follow trending topics