Fashionable winter workwear: Tips to look professional and stay warm
Jan 27, 2023 04:29 PM IST
Your personal style speaks for you even before your voice your thoughts, so why lose your spark by suppressing it under layers of bulky sweaters? Follow this simple and effective style guide to stay warm and look professional this winter.
Winter is here and with it comes the challenge of dressing professionally while also staying warm. As the temperatures drop, it can be difficult to maintain a polished and put-together look while also keeping yourself comfortable. Dressing for the winter can be tricky, especially when it comes to maintaining a professional look. Keeping warm and looking good are not mutually exclusive, however. Whether you're a business professional, a student, or just someone who wants to look their best during the colder months, it's important to understand the basics of winter fashion.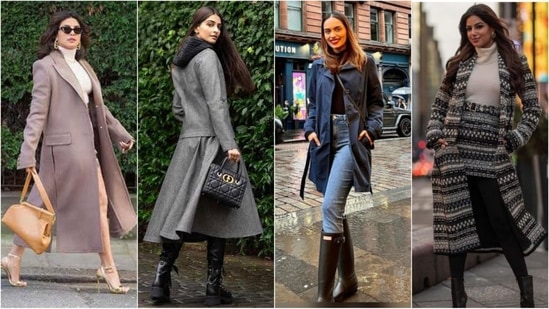 In fact, with a little bit of knowledge and effort, you can achieve both. From layering techniques to choosing the right fabrics, there are many ways to style fashionable winter workwear that will keep you warm and looking great. (Also read: Winter essentials: 5 trendiest clothes women must have in their winter wardrobe )
In an interview with HT Lifestyle, Manoj Jain, Director, Harbour 9, shared some simple and effective style guide to stay warm and look professional in winter.
1. Layer yourself wisely: Sure, you need layers of clothes to not feel chilly, but focus on the material of the clothes than wearing pretentiously warming thick clothes. You can choose from a variety of solid-coloured t-shirts that can be layered easily with a coat/ jacket. Layer it with a slim fleece tactical jacket that will be ideal to keep you insulated while also looking minimalistic and neat in appearance.
2. Keep the clothes body-fit: Baggy clothes take away your charm, hence ensure that your clothes fit you well. This also has an added advantage that it doesn't leave any gaps for the cold wind to get trapped into air pockets between your skin and the clothing. A great way to get a balanced look is by pairing snug jeans with a basic tee layered with a cosy sweater/hoodie. Add your favourite boots to this look and get ready to take on the day!
3. Keep it simple: Solid-coloured basic styles like a polo t-shirt never go out of style. They make an ideal pick for workplaces during the winter too. Making a good base layer, polo t-shirts are versatile to layered with any jacket of your choice, be it classic denim or a bomber jacket.
4. Go for long sleeves: Sleeved shirts and t-shirts are a mandate during winter. Trending styles as well as solid-coloured full-sleeved t-shirts can keep your fresh look intact during the winter.
5. Textured clothes can be experimented with: You don't have to think of winters as the dull season to keep your clothes boring too. consider experimenting with textures to elevate your look. You can wear a breathable casual cotton t-shirt and layer it with leather pants and denim jackets for a bold look.