5 unhealthy habits holding you back from your weight loss goals
Jan 22, 2023 10:25 AM IST
If you are struggling to achieve your weight loss goals despite your best efforts, then this can be due to some unhealthy habits that sabotage the progress. From skipping breakfast to mindless snacking, check out habits that affect your weight loss goals.
Weight loss can be a challenging and complex process that requires a combination of healthy eating habits, regular physical activity, and a positive mindset. However, many people find themselves struggling to achieve their weight loss goals despite their best efforts. This can be due to a variety of factors, including unhealthy habits that sabotage their progress. These habits can affect your metabolism, hormone levels, and overall health. Losing weight is not just about looking good, it's also about feeling good and being healthy. Whether you're looking to lose a few pounds or make a significant change in your body composition, it's important that you achieve your goals in a sustainable and healthy way.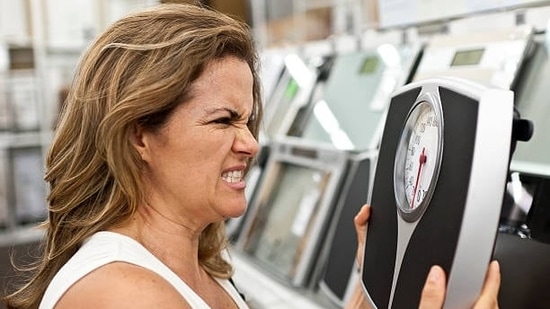 (Also read: From skipping meals to crash diets: Debunking the top weight loss myths )
Stay tuned with breaking news on HT Channel on Facebook.
Join Now
JJ Virgin, Certified Weight Loss Expert in her recent Instagram post shared unhealthy habits that impact your weight loss goals and solutions to fix that.
1. Not sleeping well
Our do-more society rewards working late hours to meet deadlines. In the bigger picture, subpar sleep might cost you productivity but it also sabotages fat-loss efforts by affecting your hunger-regulating hormones, drowning your energy levels, dialling up your stress levels, and leaving you hungry and craving sugar the following morning.
Aim for at least 7-9 hours of solid, uninterrupted sleep every night. If sleep becomes a struggle, limit electronics, try eating your last meal before 6 pm and make sure to exercise daily.
2. Drinking too much water at meals
Staying hydrated is critical for glowing skin, fighting off infections, boosting memory, crushing fatigue, and curbing your hunger. Too much water during your meals, however, can dilute stomach acid and impair digestion. Drink up, but limit your water intake during meals. Curb your water intake about 30 minutes before meals for better digestion.
3. Skipping breakfast
Skipping breakfast can be detrimental to weight loss as it can lead to overeating later in the day, cause blood sugar levels to drop, slow down metabolism, and muscle loss. Metabolism is the process by which your body burns calories and converts food into energy.
Eating a healthy breakfast can help kick-start your metabolism and keep it running throughout the day. Skipping breakfast, on the other hand, can cause your metabolism to slow down, making it more difficult for your body to burn calories. Make sure you eat a healthy breakfast to promote fast fat loss.
5. Snacking throughout the day
The graze-all-day approach to eating is a surefire way to stall fat loss. Every time you eat, you raise insulin levels, which signals the body to store fat. In addition, most " snacks" do not contain enough protein to keep your body in fat-burning mode. If you can't go more than a few hours without eating, you're probably a sugar burner. Incorporating things like Intermittent fasting, higher protein and fibre meals and only eating slow-low carbs will help you become more metabolically flexible.