Sickle cell anaemia: What is it, warning signs and symptoms, causes, treatment
Feb 02, 2023 01:00 PM IST
Finance Minister Nirmala Sitharaman during her Budget 2023 speech said that India aims to eradicate sickle cell anaemia by 2047. Here's all you want to know about the disease
Finance Minister Nirmala Sitharaman on Wednesday during her budget speech announced that the government aims to eradicate sickle cell anaemia by 2047 and for this a new scheme will be launched that will cover 70 million people up to the age of 40 years in affected Indian tribal areas for screening of the disease. Sickle cell disease (SCD), a genetic condition is widespread among many tribal population groups in India where about 1 in 86 births among STs have SCD. Early detection plays an important role in the management of the disease. In sickle cell anaemia the shape of some of the red blood cells that are usually round and flexible becomes sickle-shaped or like crescent moons and also sticky and rigid; this slows or blocks blood flow leading to complications. (Also read: In Budget 2023-24, Centre's hard push to eliminate sickle cell anaemia by 2047)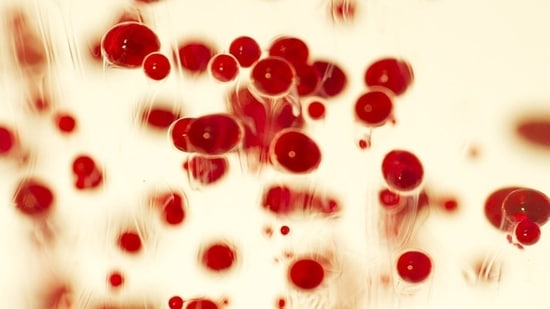 What is sickle cell anaemia
"Sickle cell anaemia is a hereditary blood disorder which affects the shape of the red blood cell which carry oxygen to all parts of the body resulting in shape like that of a sickle or crescent moons. Normally RBC are round in shape and are flexible making their movement across blood vessels very easy but in sickle cell disease not only they change in shape but also due to rigidity and sticky nature of the cells the blood flow can slow down or may even get blocked," says Dr Sunny Jain, HOD and Sr. Consultant Oncology, Marengo QRG Hospital Faridabad.
Sickle cell anaemia, a hereditary disease
"Sickle cell anaemia is an autosomal recessive inherited disease. Chromosomes are usually pairs and recessive pattern refers to when both copies of the responsible gene must have a disease-causing change- pathogenic variant in order to express or show or be able to be diagnosed to be suffering from that particular disease. Sickle cell anaemia is a hereditary disease with autosomal recessive pattern of inheritance," says Dr Jain.
Symptoms of sickle cell anaemia
Anaemia and fatigue: Normal RBC cells live for 120 days but sickle cells break apart easily and die and the cell life span is reduced to 10-20 days, thereby causing anaemia and decreased oxygen-carrying capacity of haemoglobin which causes fatigue.
Episodes of pain: Pain crisis is a serious complaint that patient experiences due to blockage of blood flow through tiny blood vessels of chest, abdomen and joints. Some adolescents and adults with sickle cell anaemia also have chronic pain, which can result from bone and joint damage, ulcers, and other causes.
Swelling of hands and feet: This happens majorly due to blockage of blood flow in hands and feet.
Frequent infections: Sickle cells can damage the spleen, increasing chances of infections.
Delayed growth or puberty.
Vision problems: Tiny blood vessels that supply the eyes can become plugged with sickle cells. This can damage the retina.
Treatment
Main stay of the treatment is mainly symptomatic with pain killers, blood transfusions and few approved medications like hydroxyurea, voxlelotor, L-glutamine therapy and crizanlizumab etc.