In Budget 2023-24, Centre's hard push to eliminate sickle cell anaemia by 2047
Feb 01, 2023 07:36 PM IST
Sickle cell disease is widespread among the tribal population in India where, according to government data, about 1 in 86 births among the Scheduled Tribes is affected by the disease.
NEW DELHI The Union ministry of health and family welfare plans to go big on counselling of couples and creating general awareness among people in sickle cell disease-affected areas to eliminate the risk of children being born with the disease, health minister Mansukh Mandaviya said during a post-Budget briefing on Wednesday.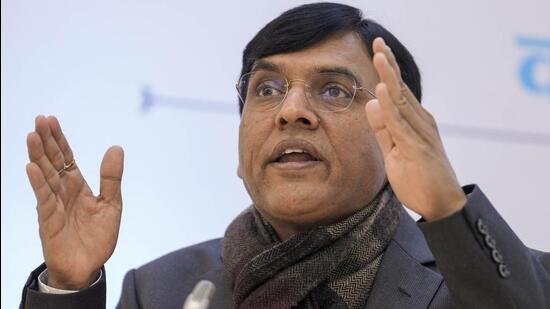 The health sector has been allocated ₹88,956 crore in the Budget estimate for 2023-24, as opposed to ₹77,351, the revised estimate for the year 2022-23. Union finance minister Nirmala Sitharaman, during her Budget speech in Parliament, said the central government aims to eliminate sickle cell anaemia by 2047, and a mission will soon be launched in this regard. The health ministry has already begun work on the plan that includes distributing colour-coded cards to those duly screened based on their disease status.
"Those screened will be given cards that would identify their sickle cell disease status— diseased, carrier, or normal. This is a huge problem in the tribal areas and our estimate is that around 7 crore people under 40 need to be screened for the disease in the country," the health minister said.
"We have already started work and the main focus would be on generating adequate population-level awareness. The message needs to be conveyed clearly that a child produced by a couple suffering from the disease will also get it. It is a debilitating condition and prevention is crucial to meeting the elimination target," he added.
Sickle cell disease is a genetic condition that affects haemoglobin (responsible for carrying oxygen in the body) in red blood cells. Complications of the disease can include anaemia, debilitating acute and chronic pain, infection, acute chest syndrome, stroke, and progressive organ damage, including decreased cognitive function and renal failure.
The disease is widespread among the tribal population in India where, according to government data, about 1 in 86 births among the Scheduled Tribes is affected by the disease.
According to the finance minister, the mission will create awareness among the masses with universal screening of 70 million people in the age group of 0 to 40 years in tribal areas and counselling through collaborative efforts of central ministries and state governments.
The health ministry will work with various stakeholders, including the ministry of tribal affairs, state governments, etc.
"The economic impact of anaemia is estimated between ₹3.20 and 3.70 lakh crore to India's GDP every year. Sickle cell disease is a condition that is widespread among the tribal population, leading to anaemia in that population group. A welcome initiative of this year's Budget is a test-track- educate-treat-council programme impacting 7 crore Indians in tribal areas to eliminate the disease by 2047. An integrated fit-for-purpose approach leveraging community workers, public-private-academia partnerships, digital interventions and indigenous treatment and nutritional knowledge would go a long way to better health and a positive economic impact," said Rohan Lobo, partner, Deloitte India.
The health ministry will allocate a budget for the mission to states under the National Health Mission.
"The allocation will happen in a 60:40 manner wherein 60% will be funded by the central government," said the health minister.
Boost to medical and pharmaceutical research
Sitharaman announced that certain select laboratories under the country's apex biomedical research regulator, Indian Council of Medical Research (ICMR), will be opened for researchers in the private and public sector.
"Facilities in select ICMR labs will be made available for research by public and private medical college faculty and private sector R&D teams for encouraging collaborative research and innovation," said the finance minister.
The health minister said this step will benefit several researchers who do not have access to high-tech laboratories. The ministry will soon identify ICMR laboratories where researchers from outside will be allowed to work.
Touching upon the subject of pharma innovation, Sitharaman said a new programme to promote research and innovation in pharmaceuticals will be taken up through various centres of excellence. She said that the government will also encourage industry to invest in research and development in specific priority areas.
Experts said it was a positive move.
"An inclusive Budget from the finance minister with a boost to critical areas such as education, agriculture, health care, environment, digital, start-ups, skilling and others. For pharma, announcements on a new programme to promote research and innovation through centres of excellence, collaboration with the ICMR laboratories, encouragement to investment in R&D point to much-anticipated support to innovation in pharma," said Satish Reddy, chairman, Dr Reddy's Laboratories.
More Nursing Colleges
The finance minister also announced 157 new nursing colleges that will be set up across the country to give a boost to the health sector. The colleges will be set up in co-locations with the existing 157 medical colleges established since 2014.
"All identified medical colleges will be provided a grant for this. The work will begin soon on all announcements, especially in mission mode for the sickle cell disease elimination project," said Mandaviya.