Latest from nirmala sitharaman
According to the commerce ministry, Business Reforms Action Plan (BRAP) report includes 301 reform points that cover 15 business regulatory areas like access to information, single window system, labour, environment, sectoral reforms and other reforms spanning the life cycle of a typical business.

Written by Harshit Sabarwal | Edited by Chandrashekar Srinivasan
, New Delhi
Here are today's top news, analysis, and opinion. Know all about the latest news and other news updates from Hindustan Times.

Union finance minister Nirmala Sitharaman said some states did raise the issue of compensation on Wednesday after the 47th GST Council meet over two days, with the general drift being that it could be continued for a few more years, if not the five sought. But no decision on this was taken.

Students, housewives, farmers and tourists will need to pay more for some items of daily use after the GST Council decided to raise levies on a host of items, including ink, pencil sharpeners, cutlery, LED lamps, power-driven pumps, and dairy, poultry and horticulture machinery.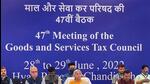 Cheque books issued by banks will now attract an 18 per cent GST. Hotel stay is also going to be costlier as a 12 per cent tax on hotel rooms below
₹
1,000 per day will be levied