Pet care tips: Top 5 latest winter trends in pet grooming
Jan 29, 2023 12:45 PM IST
One of the most important steps to ensure pets' health during winter is to make sure that your pet is properly groomed as pet grooming can help them survive the winter months by keeping them warm, healthy and comfortable. Here are top 5 latest winter trends in pet grooming
Winter is a time of year that can be especially hard on pets and with shorter days, colder temperatures and less outdoor activity, it is important to take extra care of our furry friends during this season. It is also crucial to make sure that pets are getting enough exercise and nutrition during the chilly months and one of the most important steps to ensure pets' health during winter is to make sure that your pet is properly groomed as pet grooming can help the pet survive the winter months by keeping them warm, healthy and comfortable.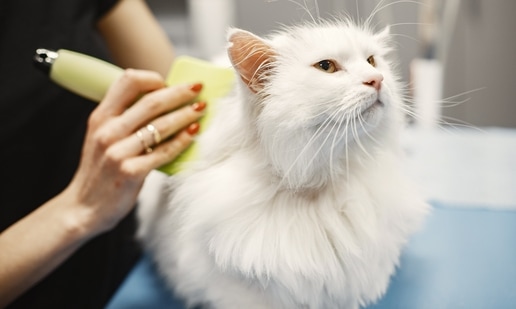 Pet grooming is the process of cleaning, brushing and styling a pet's fur, nails and teeth - a way to keep your pet healthy and looking its best. In an interview with HT Lifestyle, Raj Kantak, Founder of Petzzco, shared, "Pet grooming is becoming increasingly popular as more people are recognizing the benefits of regular grooming for their pets. It can help to keep your pet's coat and skin healthy. It can help to reduce shedding and prevent the buildup of dirt and debris. Regular brushing can help to remove dead fur and reduce the risk of matting."
He stressed, "Pet grooming can be helpful to reduce the risk of skin infections and other skin-related issues. In addition to keeping your pet's coat and skin healthy, regular pet grooming can also help to reduce stress and anxiety in the pet. Grooming can be a calming and soothing experience, and it can help to reduce stress levels." He revealed the top 5 latest winter trends in pet grooming that you should know about -
1. Fur Trimming: It is a great way to keep your pet's coat looking neat and tidy. This winter, opt for a shorter trim that will make your pet stylish and comfortable.
2. Hair Colouring: It is becoming increasingly popular among pet owners. Whether you choose a subtle hue or a bold color, it's a great way to give your pet a unique look.
3. Nail Trimming: It is an important part of pet grooming. It's important to keep your pet's nails trimmed to prevent them from becoming too long and uncomfortable.
4. Teeth Cleaning: It is essential for your pet's overall health. Regular brushing and dental check-ups are important to keep your pet's teeth and gums healthy.
5. Spa Treatments: They are becoming increasingly popular for pets. From mud baths to aromatherapy, there are a variety of treatments available to pamper your pet.
Raj Kantak concluded, "Pet grooming is an important part of pet care and can help them survive the winter months. Regular brushing and combing can help keep your pet's coat insulated and warm, while regular baths can help keep your pet's coat clean and free of dirt and debris. Additionally, regular grooming can make your pet healthy and comfortable during the winter months. So, if you want to ensure your pet's health and safety this winter, make sure to keep up with their grooming routine."