Recipe: Observing 'Meatless Monday'? Try cauliflower nuggets
If you are looking for a meat-free recipe this Monday, try your hands on cauliflower nuggets that are full of flavour, perfect as an appetizer and easy to make. Check out the recipe inside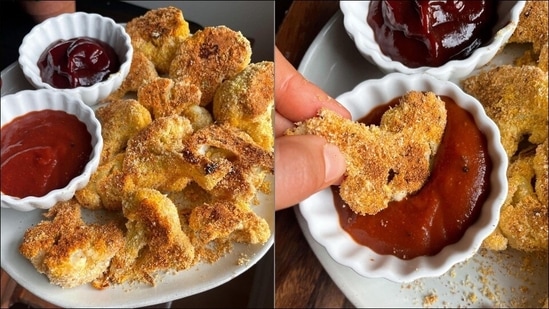 Updated on May 03, 2021 04:31 PM IST
Started in 2003 by Sid Lerner, the Founder of The Monday Campaigns, Meatless Monday is a a global movement that encourages people to reduce their meat intake for their and the planet's health. If you are one of them who is looking for a meat-free recipe this Monday, try your hands on cauliflower nuggets that are full of flavour, perfect as an appetizer and easy to make.
While its magical "fat-burning" properties are yet to be proved, cauliflower is already known as a superfood courtesy its nutrient-rich content that includes vitamins B and C, fiber, high concentrations of antioxidants like carotenoids and glucosinolates. Check out the recipe of cauliflower nuggets here which is delicious enough to surely tickle your taste buds:
Ingredients:
1 head cauliflower
2 tbsp olive oil
1/2 cup coconut flour
2 tbsp nutritional yeast
1 tsp garlic powder
1/2 tsp chili powder
1/2 tsp smoked paprika
1/2 tsp turmeric
Sprinkle of salt and pepper
Method:
Cut the cauliflower into small, bite sized pieces (or all one bite sized). Then brush each piece with olive oil. In a bowl, mix the flour, yeast, and spices.
Dip the cauliflower in the flour mixture and make sure it's coated. Shake off the extra flour. Add to a pan lined with parchment paper.
Repeat for each piece of cauliflower. Bake at 400F for 25-30 minutes. You can flip halfway through but it's kind of a pain and it works okay without doing it. Enjoy!
(Recipe: Peyton Pratte, Instagram/choosing_balance)
Benefits:
Apart from vitamins C and K, cauliflower also has calcium, iron, potassium and magnesium. As additional benefits, the vegetable has anti-inflammatory, antiviral and antibacterial effects which also means that including cauliflower in diet helps prevent cancer as it protects cells from damage.
Close Story