Recipe: Tick nutrition with this chocolate covered strawberry baked oatmeal
Updated on Jan 19, 2021 09:16 AM IST
Chocolates with strawberries make us go weak in the knees every single time and you'd be lying if you don't agree. How about binging on them without guilt while adding some health benefits? Check out this nutritious breakfast recipe of chocolate covered strawberry baked oatmeal and thank us later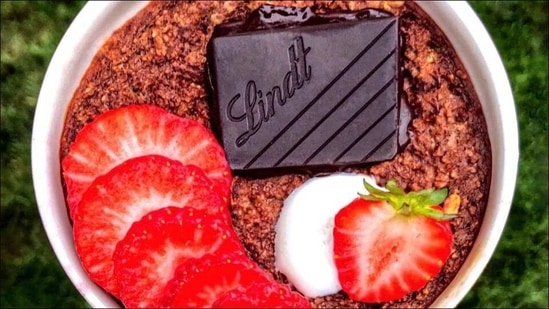 If there is a match made in heaven that everyone believes in universally, it has to be the combo of chocolate with strawberries. They make us go weak in the knees every single time and you'd be lying if you don't agree.
Don't you worry about your weighing scale as we satisfy your taste buds with a recipe that allows you to binging on them without guilt while also adding some health benefits. Check out this nutritious breakfast recipe of chocolate covered strawberry baked oatmeal and thank us later.
Ingredients:
1/3 cup oat flour
3 tbsp oats
2 tbsp chocolate protein powder
1/2 tbsp cocoa powder
2 tbsp of apple sauce/mashed banana
*optional* 1 tsp strawberry pudding powder (@simplydelishnatural)
1/4 tsp baking powder
1/4 cup chopped strawberries
1/2 cup milk
Method:
Preheat the oven to 380F. Mix all the ingredients together and pour the mixture into a greased ramekin.
Bake for 20 minutes. Top everything with more strawberries and chocolate. Enjoy.
(Recipe: Instagram/sunnysrecipes)
This recipe is not only simple enough to lure our lazy bones but also replete with nutrition and delicious taste. Apart from helping people lose weight, an oatmeal breakfast is packed with healthy carbs and fibre which reduces risk of heart disease and cancer and even lowers blood sugar levels.
As sodium-free, fat-free, cholesterol-free, low-calorie food, strawberries too are packed with fibres and vitamins. They protect the heart by increasing HDL which is good cholesterol, guard against cancer and lower the blood pressure.
Apart from lifting up your mood in a jiffy, chocolates' reputation is rising for having antioxidant effects and reducing risk factors for heart disease courtesy its cocoa content. What more reasons do you need to indulge in the perfect blend of strawberries and chocolatein this baked oatmeal dish?