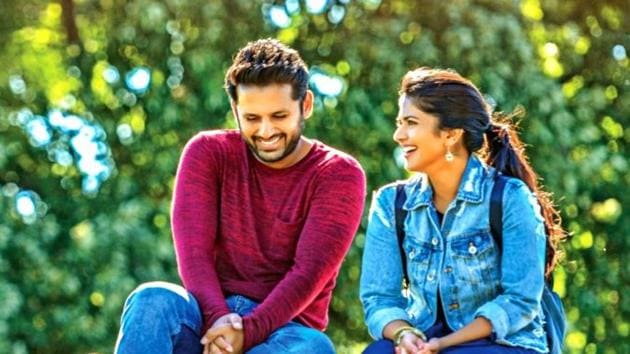 Chal Mohan Ranga movie review: Comedy saves this Nithiin starrer
Chal Mohan Ranga movie review: Nithiin plays the titular role in this romance drama, in which he is paired opposite Mega Akash.
UPDATED ON APR 05, 2018 03:27 PM IST
Chal Mohan Ranga
Cast: Nithiin, Megha Aashka, Lissy Priyadarshan
Director: Krishna Chaitanya
Rating: 2/5
Is everything that happens around you a sign? Chal Mohan Ranga, starring Nithiin and Megha Akash, is built on this belief. "If it happens once, it probably won't happen again. If it happens twice, then it will repeat for the third time too," a woman tells a child who falls and bruises his knee. The kid, however, equates this with meeting a cute girl who helps him up. Then we see him chancing upon her when he is about to abandon his puppy in the park. As expected, the girl picks up the puppy. The third time, the teenager doesn't really see her but hears that she has moved to America for her studies.
The child goes to a decent school, an average college and passes out in third class. But, his dream is to get settled in the US. Now, mind you, Mohan Ranga (Nithiin) is not mooning over the girl. He is thinking practically about how brighter his future could be if he were to be employed in the US.
Mohan Ranga gets himself a visa to visit America initially, and while there he finds a way to get employed. Of course, it all depends on his luck and chance. In the meanwhile, he literally bumps into Megha (Megha Akash) while drunk and their love-hate-love relationship begins here.
The story by Trivikram does not keep you hooked because you can see where the plot is heading much before the characters realize their trajectory. For instance, even as Mohan Ranga's friend in the US books a car through car pool, we know Megha is going to be his carpool partner. She will be incidental to Mohan Ranga getting his visa too, stressing on the fact that she is important. This constant underlining of their relationship is what begins annoying us after a while.
This over the top first half is saved by light humour, and it is thanks to comedy that second half picks up momentum. Doctor Mitra, the psychologist in the film and his friend Ramesh's dialogue about patients and treatment is the most entertaining scene in the film, followed by Mohan Ranga and his friend Pammy's duet. Such laugh-out-loud moments somehow salvages what is left of the romantic drama towards the end.
The climax of the film is unnecessarily drawn out and overtly dramatic. It suffers throughout because of cliches and would have been unbearable if not for the comedy woven throughout.
Author tweets @Priyanka_S_MCC
Follow @htshowbiz for more

Close