Bombay high court refuses to stay reclamation for mid-sea Shivaji memorial in Mumbai
NGO says eco nod invalid, HC accepts state's stand on Centre's authority to decide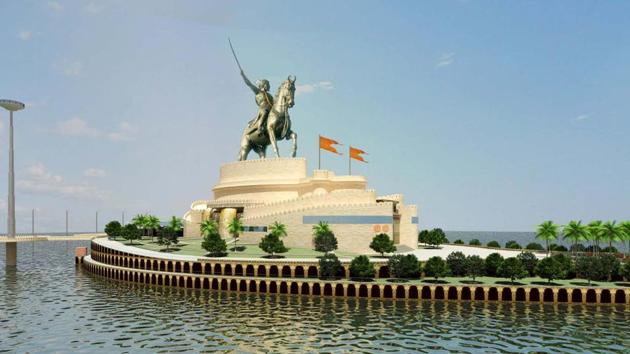 Updated on Nov 03, 2018 09:53 AM IST
Hindustan Times | By Kanchan Chaudhari
The Bombay high court (HC) on Friday refused to stay reclamation at the site of the proposed 212m-high Chhatrapati Shivaji Maharaj Memorial in the Arabian Sea, off the Mumbai coast, sought on the grounds that the "environment clearance granted to the project was invalid".
City based non-government organisation Conservation Action Trust (CAT) claimed the ministry of environment and forest (MoEF), in 2015, changed the coastal regulatory zone rules to allow construction of monuments and memorials in CRZ-IV areas. The petition claimed the final notification on the change had a clause that empowered the Centre to exempt states from holding public hearings before grant of environmental clearance. This, the NGO claimed, was added to the final notification without first notifying it along with the 2014 public notice.
The petitioner argued that the clause required a separate order to be passed by the Centre granting exemption to the government from public hearings. As no such order was passed, the clearance for reclamation of land equivalent to two Oval Maidans became illegal, stated the petition, adding the situation would become irreversible, if the government was allowed to go ahead with the plan.
Refusing to accept the contention, a division bench of chief justice Naresh Patil and justice Girish Kulkarni said under the CRZ rules and provisions of the Environment Protection Act, 1986, the Centre has the authority to grant exemption from public hearings and there was nothing wrong in incorporating the exemption clause in the 2015 notification.
The bench also accepted the state's stand that public hearing was not required to be held in case of the memorial, as no human habitation was affected by the project and no person was required to be rehabilitated or resettled.
"It also cannot be overlooked that the project is considered by the state government to be a project of national importance," it said.
The state said it has obtained clearances and NOCs from 14 different authorities, and got specialised studies of the site conducted before giving the contract to L&T on June 20, 2018.
The work at the site began on October 19.
Close Story