House-warming feast: 3 kids die, 88 people fall ill of food poisoning in Maharashtra's village
Locals of Mahad village suspect later batches of food served at the house-warming may be suspect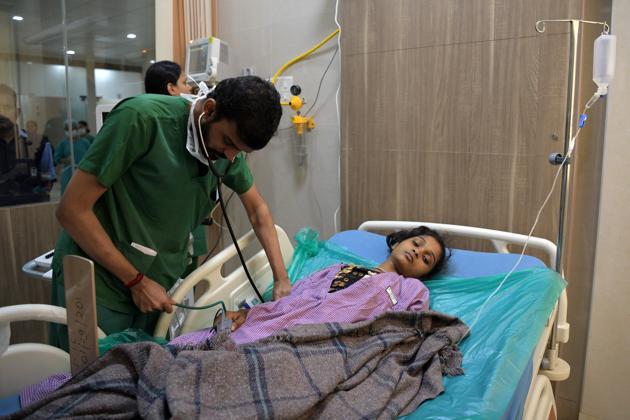 Published on Jun 20, 2018 01:35 AM IST
Seven-year-old Kalyani Shingote was one of 150-odd guests at a house-warming celebration in Mahad village on Monday. She and her two siblings ate at this function, but at different times.
"Her elder sister Diksha and brother Swaraj had food around 4pm, when the food was first served," said Ganesh Shingote, Kalyani's uncle. Kalyani sat down to eat around 7.30pm. Two hours later, the little girl complained of a stomach ache and started vomiting.
"We first took her to a Khopoli hospital from where she was sent to Mahatma Gandhi Mission Hospital (in Kamothe). She died on the way," said Shingote.
Kalyani's siblings have not shown any symptoms of the food poisoning that would leave 88 of 150 guests sick, and lead to the deaths of Kalyani and two other children. They had all been invited by Subhas Mane, a local gardener who was celebrating his newly-constructed house with a puja and a meal prepared by a local maharaj (cook).
Navnath Gaikwad, 41, had been at the event with his family. He says he, his wife and his elder daughter ate around 8pm. His younger daughter and son had eaten at Mane's house-warming too, but three hours earlier.
"At night, my elder daughter started vomiting and she was followed by my wife. By then, I learnt that many other people from the village were having similar issues. As I was getting ready to take them to hospital, I too felt my stomach ache," Gaikwad said.
Gaikwad forced himself to vomit and believes this saved him. "The stomach ache was still there, but it was bearable," he said.
His wife and elder daughter have been admitted to DY Patil Hospital in Navi Mumbai. "While my wife is in the general ward, my elder daughter is in the intensive care unit (ICU) now. The doctors are saying she is recovering. My younger kids, who had food before us, have not complained of any problem till now," said Gaikwad.
Also admitted to DY Patil Hospital is 13-year-old Vilash Thikrey, who ate at Mane's around 8pm. "The food was nice, but dal tasted a bit bitter," he remembered.
Vilash's parents had eaten at home, rather than at Mane's. "Around 1 am, people came to our place and asked if anyone from our family had the food in the programme," said Vijay Thikrey, Vilash's father. "By then Vilash was complaining of stomach ache and he started vomiting soon after. We immediately rushed him to a nearby government hospital. After checking him, the doctor asked us to take him to a better hospital."
Vilash was vomiting till 5am and had a stomach ache till 6.30am. His condition is now stable.
Locals suspect later batches of food served at Mane's house-warming may be suspect. A police investigation into this incident is underway.
Close Story