Mumbai's Lingayats have mixed reaction to separate religion status
While there are some who do not consider themselves different from Hindus, other say their practices differ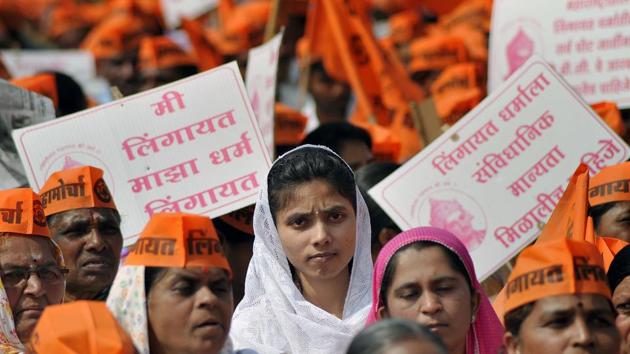 Updated on Mar 21, 2018 01:00 PM IST
Hindustan Times |
, Mumbai
Yesha Kotak
A day after the Karnataka government decided to declare Lingayats a minority religious group and include Veerashaivas a part of the community, members of Lingayat community in the city differ on the issue.
While there are some who do not consider themselves different from Hindus, others said their practices differ and so they should be granted the separate religion status.
"If you say we belong to a different religion, what will you name us? We cannot be called anything but Hindus," said a swami from Shri Nageshwar Mandir Trust, Bhuleshwar (popularly known as Gol Deval).
The swami belongs to Veerashavias, a sub-sect of the community, which worships Lord Shiva. Lingayat was formed by Basavanna, a social reformer, who did not believe in some social practices, especially the caste system. His followers worship Shiva as ishtalinga (formless God), which they wear around their neck. But, Veerashaivas consider 'pancha peeta' (five mutts) as their holy places, which includes Kashi mutt, Rameswaram mutt, Ujjaini mutt, Rambhapura mutt and Srishaila mutt. The places are also venerated by other Hindus.
If the proposal is approved by the central government, Lingayats will get additional benefits in education and employment on a par with religious minorities.
SM Patil, president of Maharashtra Veershiva Sabha, Mumbai, said the community wanted the status of a minority religious group in Maharashtra as well.
"We have held protest in Maharashtra too because our practices are different from that of Hinduism, we cannot be considered as Hindus. While, we have been given a minority status, it is not specifically granted to people of our community," said Patil.
Patil added that a large number of Lingayats live in Latur, Nanded, Kolhapur and Solapur, while around 4 lakh people from the community live in Mumbai.
Eighteen sub-castes of Lingayat have been granted OBC status in Maharashtra, while three sub-castes have been given the status of special backward class.
There are some members who said migrants from Karnataka had not given the same benefits as other members of their community in Maharashtra.
"I have earlier fought for my rights. They do not give me that status in Maharashtra because I was born in Karnataka. So, the minority status demand does not matter to me. Those who are born in Maharashtra get their due," said VM Hiremath, secretary of Sharand Sankula Charitable Society.
Close Story