Number of private unaided schools in Maharashtra doubles in four years
There' was 111% rise in private unaided schools between academic years 2013-14 and 2017-18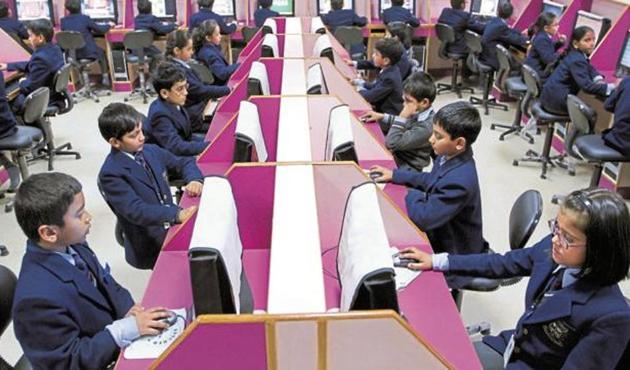 Updated on Mar 22, 2018 03:44 PM IST
The number of private unaided schools in the state has doubled in the past four years, even as many government-run and private-aided schools closed down during this period.
Data from the Economic Survey of Maharashtra for the current and last fiscal shows that of the 1,06,527 schools in the state, 22,477, or 21.1%, are private unaided schools. In 2013-14, 10,676 of 96,178, or 11.1%, schools, fell in this category. That is an 111% rise in private unaided schools between academic years 2013-14 and 2017-18.
During this period, the number of government-run schools and those private schools which receive grant from the state hasn't varied much. Currently, the state has 84,050 government and private aided schools, compared to 85,502 schools belonging to this category in 2013-14.
The revelation comes shortly after the state assembly cleared a bill to allow firms registered under section 8 of The Companies Act, 2013, which are established to promote sports, education, research, social welfare, charity and other causes and use their profits for these purposes only, to start and run schools. Meanwhile, many continue to complain about 'exorbitant'' fees charged by private unaided schools.
According to experts, growing aspirations among parents is one of the major reasons for this trend. "Parents increasingly want to educate their children in private- and English-medium schools. There's a perception that government-run schools are inferior to private ones," said Farida Lambay, co-founder of Pratham, a city-based non-governmental organisation.
Lambay also said most of the new private unaided schools are middle schools (from Class 5 to 8). The government, under the obligation of Right to Education (RTE) Act, 2009, is focusing on making primary education accessible to students. "Wherever there's a dearth of schools in the state, private schools come up," she said.
A Pune-based education researcher said the state saw a spike in unaided schools after the state government introduced Maharashtra Self-Financed Schools Act, 2012, which had new norms to start private schools. "The act ended the possibility of private schools to receive government funding at any point of time. The government also cleared the proposals for new schools without much consideration," he said.
The researcher said the government is strategically promoting private entities in the education space, while limiting its own role. He cited the government's decision to close down 1,300 low-enrolment schools in the state as an example of this purported trend.
The experts said the growing proportion of private schools in the state is forcing parents to shell out more money for their children's education, while some may be deprived of education. "I am concerned. The education sector shouldn't move towards privatisation. Otherwise, some children at the bottom of the pyramid will be left out," said Lambay.
Close Story
Personalise your news feed. Follow trending topics