Overburdened facilities to blame for MRI death at Nair Hospital: Mumbai civic body official
BMC official says they aim to reduce burden on civic hospitals, replace private guards with police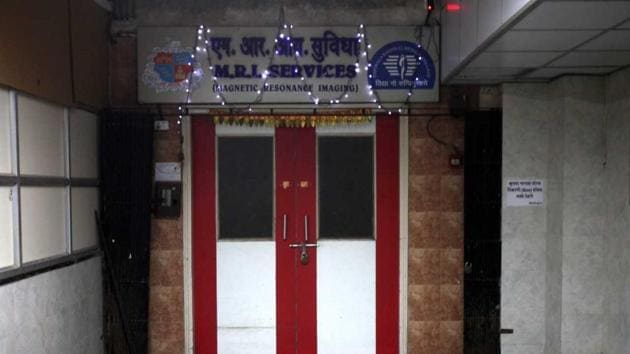 Published on Apr 08, 2018 12:38 AM IST
HIndustan Times |
Eeshanpriya MS
Following the death of Lalbaug resident Rajesh Maru by being sucked into the MRI machine at Nair Hospital in January, the civic body's preliminary findings about cause of the incident reveal that the hospital's security procedure could not be followed that day, as the hospital staff and facilities are overburdened with patients.
Maru, 32, died after being sucked into the MRI machine when he carried an oxygen cylinder — a metal object — into the room. It is prohibited to carry metal objects into the MRI room. A senior civic official said the disproportionate burden on hospital staff and facilities is the reason why the oxygen cylinder could have made it into the MRI room. The incident took place on January 27 this year.
While the committee enquiring into the incident is yet to submit its report, a senior civic official privy to the issue said, "There is a strict procedure in place, with checks and balances to ensure such incidents do not occur. However, clearly, the procedure could not be followed that day. The probe report will find out why, but reasons include overburdened staff and facilities at hospitals."
The Brihanmumbai Municipal Corporation (BMC) wants to reduce the burden on civic hospitals by 50%, in order to resolve these issues. It plans to do so through old initiatives such as strengthening its 175 peripheral dispensaries, slowly replacing its private security guards with government policing and use of ID cards for the family of patients to restrict entry of family members to two per patient. The civic official added, "Other measures will be decided once the report's findings are revealed. But we have started work on these issues."
The BMC has floated tenders for the third time now to allow private laboratories to give free health tests at 175 civic dispensaries. It also wants to hire more doctors for each dispensary. The BMC noticed that a majority of the patients at civic hospitals come for primary health care, such as basic blood tests and other common diseases such as common cold. It intends to divert this crowd to the dispensaries. This plan has been in the pipeline for some time, under a programme called 'Aapli Chikitsa'.
The civic body also plans to hire government security personnel for crowd management in all its 16 hospitals. The civic official said, "We will restrict the number of family members who accompany patients to two, and we need strong security personnel to do so, as we have noticed private security personnel hesitate to use force in such cases."
Both these measures were planned in March 2017 following a slew of attacks on resident doctors by relatives of patients.
Close Story