Mumbai burns, heat wave will continue on Thursday
Updated on Feb 28, 2018 10:32 PM IST
Mumbai recorded 37.4°C on Wednesday; Thursday's maximum temperature is likely to be six degrees above normal; the city can expect relief on Friday, according to India Meteorological Department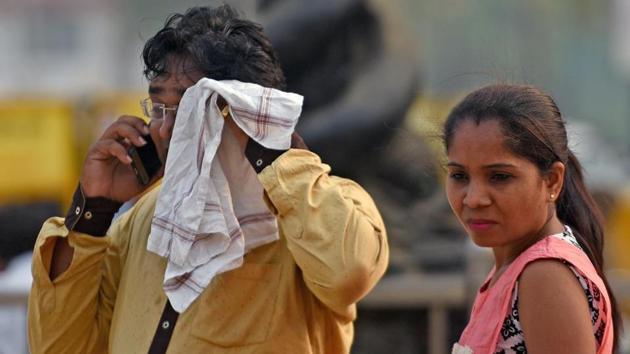 At 38 degrees Celsius, Mumbai could experience one of the hottest February days on record on Thursday. The India Meteorological Department (IMD) has issued a heat wave advisory for Mumbai, Raigad and Ratnagiri, following a period of abnormally high temperatures this week.
On Wednesday, the Santacruz weather station recorded a day temperature of 37.4 degrees Celsius, 5.3 degrees Celsius above normal. Colaba recorded 34 degrees Celsius, 3.5 degree Celsius above normal. The night temperature in Colaba was 2.1 degrees above normal at 23.1 degrees Celsius. Santacruz recorded 21 degrees Celsius, almost 2 degrees above normal. Humidity levels were 71% in Colaba and 41% at Santacruz.
According to the India Meteorological Department's Mumbai office, Thursday's high will be six degrees above normal, and while the mercury is expected to drop marginally on Friday, the forecast is still grim at 35 degrees Celsius as the maximum temperature.
"The heat wave conditions are for isolated parts of the Konkan coast, including Mumbai, due to a lower-level anti-cyclonic circulation over Gujarat and parts of Maharashtra," said KS Hosalikar, deputy director general, western region, IMD. "This is bringing warm easterly to north-easterly winds over Mumbai and the surrounding areas. They do not allow the sea breeze [cool westerly winds] to settle over the city fast enough."
He said such high temperatures are unusual for Mumbai in February, thus requiring the IMD to issue the heat wave warning.
Mumbai residents will be better off staying indoors, according to IMD weather scientist Ajay Kumar. "Moisture level and temperatures are both high and could lead to dehydration or heat exhaustion," he said. "People should reduce outdoor activity and have lots of fluids."
On Tuesday, the day temperature was 37.8 degrees Celsius, 5.7 degrees above normal. On Sunday, the city had recorded 37.6 degrees Celsius, 5.5 degrees above normal levels. On February 19, 2017, Mumbai recorded 38.8 degrees Celsius. On February 23, 2015, it was 38.8 degrees, making this Sunday's 37.6 degrees the third highest February day temperature since 2013. In February 22, 2012, Mumbai recorded 39.1 degrees Celsius. In 2008 and 2009, the highest February maximum was 37.6 degrees. The all-time high February day temperature was 39.6 degrees, recorded on February 25, 1966.
Meanwhile, air pollution levels remained in the 'poor' category for the seventh consecutive day as the air quality index was recorded at 241 (poor). An AQI level of 236 (poor) has been predicted for Thursday.
Personalise your news feed. Follow trending topics