Veteran Carnatic singer M Balamuralikrishna passes away at 86, Twitter reacts
Updated on Nov 23, 2016 01:24 PM IST
Veteran Carnatic musician and Padma Vibushan awardee Dr M Balamuralikrishna passed away in Chennai on Tuesday at the age of 86.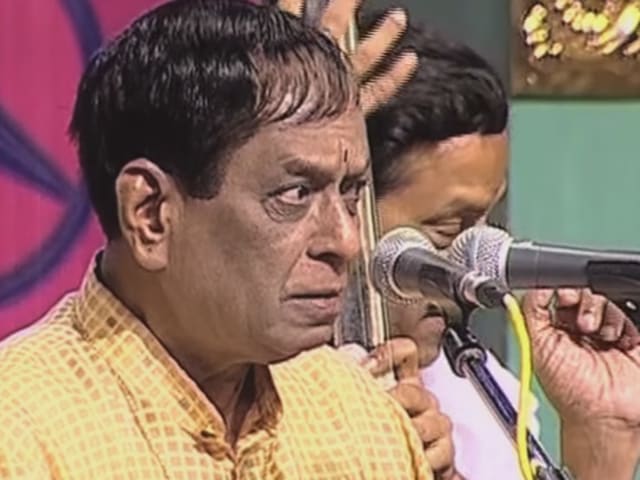 Singer-composer Mangalamapalli Balamuralikrishna, who caught the nation's attention in Doordarshan's iconic music video 'Mile Sur Mera Tumhara' in the eighties, passed away in Chennai on Tuesday. He was 86.
A child prodigy who rose to become a musician of immense versatility in all fields and held sway over rasikas with his mesmerising voice and unique way of rendering compositions, Balamuralikrishna was awarded France government's Chevalier of the Ordre des Arts et des Lettres (Order of Arts and Letters).
With a voice magnificently rich and instantly recognisable, Balamuralikrishna excelled not only as singer but left his imprint as a composer, poet, multi instrumentalist and innovator of ragas and taalas.
In 'Mile Sur…' -- the popular national integration song -- he sang the Tamil lyrics in the song first telecast on Independence Day in 1988.
Though he was born in Sankaraputham of East Godavari district in present Andhra Pradesh, he made Chennai his home.
He started performing at a very young age and presented his first concert when he was just six years old.
Described as a living legend and awarded honorary doctorates, Balamuralikrishna performed at more than 25,000 concerts across the world and has more than 400 compositions in Telugu, Sanskrit, Kannada and Tamil to his credit.
In addition to Carnatic vocals, he was adept at playing the violin, viola and mridangam, a percussion instrument.
Reflecting his musical lineage, he once said that "music flows in my blood".
Gifted with a stentorian voice, he could sing perfectly in three octaves. He was not content with the fame and recognition gained by performing concerts and composed new raagas known as 'raganga ravali', 'lavangi', 'mahati' and 'manorama'.
Though his native tongue was Telegu, he could sing effortlessly in many languages, including Tamil, Kannada, Sanskrit, Malayalam and Hindi.
Hindustani music too was not out of bounds for this musical genius and his 'jugalbandis' with eminent exponents like Pt Bhimsen Joshi and Kishori Amonkar, Hariprasad Chaurasia, Pt Jasraj and Zakir Hussain drew wide acclaim.
He also left his imprint in the field of cinema, where he tried his hand with acting and playback singing too.
Among his notable film forays was the song 'Oru Naal Pothuma' in "Thiruvilayadal", starring Sivaji Ganesan.
Balamuralikrishna did full justice to the song, with his voice bringing out the arrogance of the character.
Besides numerous cities and towns in India, he gave concerts worldwide, including in the US, the UK, France, leaving audiences spellbound.
Tamil Nadu chief ministerJayalalithaa expressed said his death was an irreparable loss to the field of music, cinema, fans and "above all for me".
Balamuralikrishna had dedicated a raaga in her name titled 'Jaya Jaya Lalithe'.
With agency inputs
Follow @htshowbiz for more
Personalise your news feed. Follow trending topics