British Open debutant Shubhankar Sharma up for Carnoustie challenge
Enjoying a sensational season in which he has won two European Tour titles and played the Masters and US Open, Shubhankar Sharma is ready to embrace the unique challenges of Carnoustie.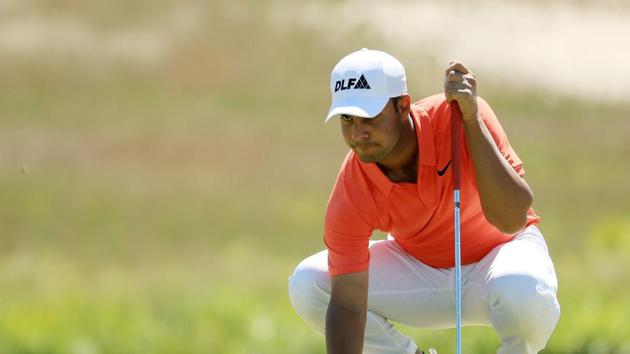 Updated on Jul 17, 2018 11:18 PM IST
Hindustan Times, New Delhi | By Joy Chakravarty
Carnoustie is thirsty and baying for blood. Shubhankar Sharma seems easy prey but the Indian is confident of slaying the beast.
The Angus region in Scotland has enjoyed an Indian summer the last four weeks with hardly any rain, and that has left the fairways parched. The ball is running, making club selection off the tee an issue for the quality field that has gathered for the 147th Open Championship, the oldest Major in the world.
Universally acclaimed as the toughest on the Open rota of host venues, Carnoustie is playing even tougher this week despite the organisers having shaved off 19 yards in course length from the last time the Open was played here in 2007.
Armed with a new set of teeth alongside the ever-present Barry Burn and its gaping pot bunkers, the feeling here is that experience, especially of playing links courses, will be the key this week. Carnoustie is expected to have rookies for breakfast.
One links newbie is hoping to prove the theory wrong – 21-year-old Shubhankar.
ALSO READ | Fast Carnoustie fairways give Tiger Woods hope of another British Open win
Enjoying a sensational season in which he has won two European Tour titles and played the Masters and US Open, the Chandigarh pro is ready to embrace the unique challenges of Carnoustie as he prepares for a dream Open debut.
"The Open is one of my favourite Majors. It is the one I dreamed of playing since I started golf," said Shubhankar.
"I am not nervous. I have played enough big tournaments and Majors to be prepared for this kind of an atmosphere. If you take out all these tents and marquees and leave me alone at the golf course, I would expect to shoot a sub-par round. I have to take that belief into a tournament round.
"I have seen almost every shot played at the Open Championship on TV every year since 2006. I know what to expect. More importantly, unlike the Masters and US Open where I came to know about my inclusion a few days prior to the tournament, I knew I qualified for this more than seven months ago (by winning the Joburg Open in December 2017), so mentally I am better prepared."
Shubhankar felt the lack of links experience is not going to hurt him.
"It's a new experience, but so was the World Golf Championship in Mexico and I did pretty well there. I believe playing good golf will be rewarded on any golf course," said the world No 87, who becomes the eighth and youngest Indian to feature in an Open Championship.
ALSO READ | Another top-5 finish for consistent Gaganjeet Bhullar in Indonesia Open golf
"My coach (Jesse Grewal) is here this week and we have worked hard on our game. My hitting was a bit off at the Irish Open, but I improved on it last week during the Scottish Open and am feeling better.
"We have discussed the strategy to tackle this course and I am confident I will have a good week."
Saturday is also his birthday and Shubhankar is excited.
"Hopefully, I can be in contention going into Sunday. That would be the best birthday gift I can give myself."
Shubhankar is paired with 2017 Masters champion Sergio Garcia, who lost to Padraig Harrington in a playoff here in 2007, and Bryson DeChambeau. They tee off on Thursday at 1940 IST.
Close Story