Fast Carnoustie fairways give Tiger Woods hope of another British Open win
Tiger Woods may not have won after his back surgery, but this could be the week when he changes all that.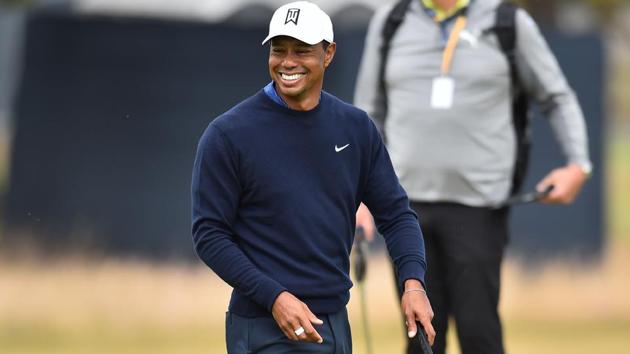 Updated on Jul 18, 2018 01:38 AM IST
Hindustan Times, New Delhi | By Joy Chakravarty
Brace for a vintage Tiger Woods display. That seems to be the consensus at the Carnoustie Golf Links as the third Major of the season begins from Thursday.
The former world No 1 may not have won after his back surgery (his last win was the 2013 WGC-Bridgestone), but this could be the week when he changes all that.
Given the conditions at Carnoustie and the way his game has improved after his latest comeback, the 42-year-old is expected to repeat one of his most memorable performances – winning the 2006 Open on a baked and crusted Hoylake course.
It was sensational what he did then. He was coming after a nine-week break following the death of his father and looked rusty in missing cut at the US Open a few weeks before. Once at the Open, he needed to make a surreal game plan to adjust to the brutal conditions.
Finding that his driver was travelling in excess of 375 yards on the hard fairways, Woods ditched the club. He then proceeded to destroy the golf course with brain rather than brawn. He threaded the bunkers and stayed away from them before finally winning by two shots and breaking down on the 18th green remembering his father.
ALSO READ | Another top-5 finish for consistent Gaganjeet Bhullar in Indonesia Open golf
Carnoustie fairways are looking similarly brown and dangerously firm and fast. The ball is running to such an extent that Padraig Harrington found the Barry Burn on the 18th, which is not unusual, but he hit into the one at the front of the green – a whopping drive of 457 yards! On the fifth hole, Masters champion Patrick Reed smashed his 3, 4, 5 and 6-iron into the Burn 310 yards away, before finally laying up at 295 yards with, believe me, a 7-iron!
Woods, who himself saw his three-iron travel 333 yards before coming to a stop, admitted he might keep the driver away and use a two-iron that he delofted by almost three degrees to 17 degrees.
"There's not a lot of opportunities to hit the driver just because the ball is going to be rolling 80 yards. It's just hard to keep the ball in play," said the 14-time Major champion who is returning to the Open Championship after a gap of three years.
"It's going to be an interesting test to see which clubs we're going to be using off the tees, and a lot of it is dependent on which way the wind blows.
ALSO READ | Anirban Lahiri tied-second in Greenbrier Classic golf tournament
"It could be that way (that I might not use the driver). It can get quick out here. Obviously, we had a little bit of rain since then, but if it just dries out a little bit and gets to where it was on Monday, then you're going to see a lot of guys hit the ball a long way with not a lot of club.
"I think it's understanding how to play the golf course and how to play in these conditions. The fairways were faster than the greens. I think trajectory means a lot. How we're going to manage our way around the golf course is going to be the real interesting test."
Woods, now ranked 71st in the world after posting three top-10s in 11 starts this season, said he could feel his confidence level going higher with every tournament he plays.
"Each tournament I keep coming back to, I keep feeling a little bit better because I'm starting to play some golf again. My feels are much better than they were at the beginning of the year, and I feel like I have a better understanding of my game and my body and my swing," said the three-time Open champion.
"I have made a few adjustments – I've changed putters. I've tweaked my swing a little bit since the West Coast swing. Everything's gotten just a little bit better. I've put myself up there in contention a couple times. Just need to play some cleaner golf, and who knows?"
Close Story