Manika Batra asks Indian table tennis players to get rid of mental block, says Chinese opponents can be beaten
Manika Batra was one of the top performers for India at the Commonwealth Games in Gold Coast with a gold each in women's singles and women's team event, silver in women's doubles, and a bronze in mixed doubles.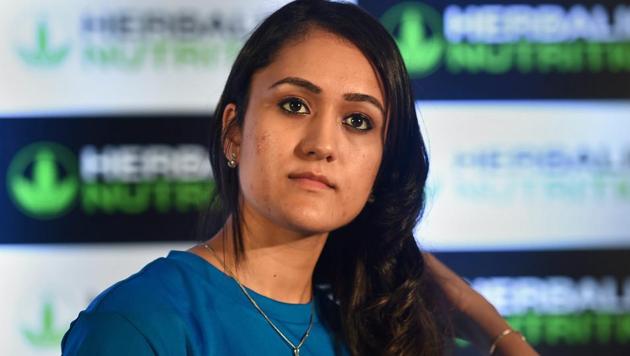 Updated on Sep 21, 2018 11:20 AM IST
It has been a year to remember for Indian table tennis star Manika Batra till now. The 23-year old created history by becoming the first Indian woman paddler to win an individual gold at the Commonwealth Games and finished the tournament with four medals to her name.
Just four months later, she was once again the talk of the town as Manika clinched a historic Asian Games medal in Jakarta as she paired up with Achanta Sharath Kamal to bag bronze in the mixed doubles competition.
When asked about her achievements, the happiness was clear in Manika's eyes and the 2018 Arjuna Awardee wasted no time in stating how proud she feels about her historic feats.
"It feels amazing to be the first and to know that history will say that Manika Batra was the first to achieve the brilliant feats in both the Commonwealth Games and in the Asian Games. I am so happy and I am really proud of myself," Manika told Hindustan Times in an exclusive interview on Thursday.
READ: Bollywood, food and quality football on agenda as Tim Cahill gears up for ISL debut
"In the Commonwealth Games, I faced just the Singapore players and the Australian players. But, the Asian Games had a number of higher ranked players taking part and I am really happy that I was able to get a medal in Jakarta," she added.
Manika was one of the top performers for India at the Commonwealth Games in Gold Coast with a gold each in women's singles and women's team event, silver in women's doubles, and a bronze in mixed doubles.
However, at the Asian Games 2018, she was able to clinch just bronze in the mixed doubles category while her singles run came to end in the Round of 16 against eventual silver medallist Wang Manyu of China.
Manika said that even now Indian players have a mental block when it comes to facing Chinese opponents and that is something that they need to change in order to succeed on the global stage. She added that the Indian paddlers have improved a lot over the last decade and there is no reason to think that they will not be able to beat the Chinese opposition.
"Most Indians think that just because the opponents are Chinese that we do not have a chance against them. But that is no longer the case. We have improved a lot and I do not think that it is impossible to beat the Chinese in table tennis. It is about time that we get rid of that mental block."
Manika, who was named as a sponsored athlete of Herbalife Nutrition on Thursday, is currently 56th in the world rankings and her immediate goal is to break into the top-30. When asked about her future, she said that improving her rank is the first priority but a medal at the Tokyo Olympics will still remain her dream.
READ: Neeraj Chopra sees Asian Games gold as stepping stone towards Olympic dream
"My immediate goal is to be in the top-30 in the world. I will play more international tournaments in order to improve my ranking and the ultimate target is to win an Olympic medal," she said.
Dronacharya controversy
Although Manika's name was included in this year's Arjuna Award list, her coach Sandeep Gupta was not a part of the prestigious Dronacharya Award list. She had earlier said that her coach has worked a lot towards the development of table tennis players in India and he should get the award this year.
On Thursday, Manika did not say much about the choice to exclude her coach from the list but her mother – Sushma Batra – said that the entire family was quite disappointed with the decision.
"We are quite disappointed with the decision and even Manika feels that Sandeep should win the Dronacharya award this time. But we do not want to blame anyone and next year, he should surely receive the award because we feel that he truly deserves it," she said at the sidelines of the event.
Close Story
Personalise your news feed. Follow trending topics