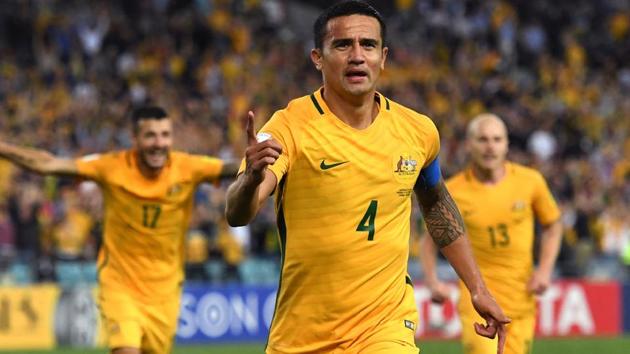 Exclusive: Bollywood, food and playing quality football on agenda as Tim Cahill gears up for ISL debut
In an exclusive interview with Hindustan Times, Tim Cahill spoke about his new journey, what brought him to Indian Super League and how Brett Lee trained him for Indian food and Bollywood.
UPDATED ON SEP 11, 2018 09:56 PM IST
At 38, Tim Cahill is easily one of the oldest footballers on the global stage. The former Everton forward has been an absolute legend for the Australian football team and with 50 goals to his name, Cahill is the highest goal scorer for his national side by quite some distance. However, Cahill is not ready to rest on his laurels as he joined Jamshedpur FC for the upcoming season of the Indian Super League (ISL).
When it comes to his club career, Cahill has been a traveller of sorts with stints in England, Australia, United States of America and also China. Not long ago, rumours suggested a return to Major League Soccer — the league where he spent three years with New York Red Bulls between 2012 and 2015. However, the veteran is ready for a new challenge and he has already joined the ISL team in Spain for the pre-season.
In an exclusive interview with Hindustan Times, Cahill spoke about his new journey, what brought him to Indian Super League and how Brett Lee trained him for Indian food and Bollywood.
Q: What's your perception about Indian football?
Cahill: The perception is actually quite positive. If you look at the footballers who have played in India over the last few years, it is quite impressive and it has made noises all around the world. When I went back to England, people were talking about players like Robbie Keane and Wes Brown playing in India.
The other thing about Indian football that took me by surprise was the following that the game has in this country. With such a huge fan base, Indian football has a good foundation and my aim is to become an ambassador of the sport and fly the flag on the international stage for the Indian fans.
Q: What are the things that you have heard about India?
Cahill: I have a lot of friends in the Australian cricket team and they have told me a lot about India. Brett Lee was telling me about the food and Bollywood. I am the kind of person who likes to embrace the culture of a place and I really want to travel and see the various temples around the country.
Q: What's your aim this season with Jamshedpur FC?
Cahill: I want to be a professional and my main aim is to make this club better — both on and off the field. My aim is to bring a lot of attention to the ISL and become a good example for the Indian players. The Atletico Madrid representatives told me about their plans for the club and that was one of the reasons why I joined the ISL. The future looks quite bright and I want to play my part for the club.
Q: How's the pre-season training going for you at the moment?
Cahill: I joined the camp late but I am living in the campus with all the other players and I want to have a good pre-season. I am currently in top shape and hopefully, I will be able to make up for lost time.
Q: Can you tell us about the process of your signing?
Cahill: I received a number of calls from the Atletico Madrid representatives as they were handling the deal for Jamshedpur FC. I asked them a lot of questions about the club, their expectations, the training pitches and the schedule. I got the schedule a bit late and that is why I did not sign early. But I have friends in India and I think this will be a new adventure for me — both as a footballer and an individual.
Q: How is your rapport with the other players of the team?
Cahill: We are all staying in the same campus and I am getting to know them slowly. Last day, Jerry (Mawihmingthanga) was telling me about the spicy food back home and he also asked me about how I like my curry. I don't like it too spicy but I would love to try the curries out with some yogurt. I feel relaxed with the club already and I think that is a great thing when you are starting a new journey.
Q: Where do you think Indian football needs to improve?
Cahill: India should go at their own pace and not compete with anyone. They have a league system in place and a huge fan base but the thing they need the most is a good structure. They need to create a good footprint for football in the future because they have the numbers but they need to improve the quality of the game. It is a slow process and I am sure that they will be able to achieve their goals.
Q: How long do you see yourself playing football following your international retirement?
Cahill: As long as I am able to compete physically with the younger players, I am going to play. Right now, I am in good shape but I need to keep doing the right things. I am training quite hard to stay sharp — mentally and physically — and I don't see any reason to think about leaving football at this moment.
Close