National anti-doping body sets Narsingh verdict for Monday
Freestyle wrestler Narsingh Yadav will know the fate of his doping case when the National Anti-doping Agency announces its verdict on Monday.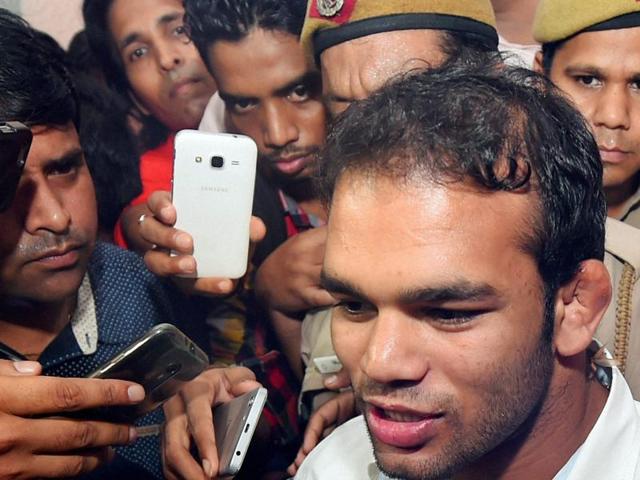 Published on Jul 30, 2016 10:03 PM IST
NEW DELHI
The fortnight-long doping saga of the Rio Olympics-bound wrestler Narsingh Yadav headed towards a final decision on Saturday after a marathon hearing by the National Anti-doping Agency (NADA) at its office here.
However, the national anti-doping body will announce its decision only by Monday afternoon as there were a number of documents that will have to be gone through, NADA director general, Navin Agarwal, told the media.
It was a long day for everyone following the developments.
Narsingh, accompanied by his lawyer, Vidushpat Singhania, and Ramadhar Yadav, who is representing the sports management company JSW, which is supporting his training along with the government, arrived at the NADA office around 5.30 pm. They were closeted with the anti-doping panel for around four hours.
The wrestler looked grim as he walked out around 9.30 pm, but broke into a smile on seeing the waiting media. "I'm going to come back again later," he said before leaving.
The NADA officials were initially expected to pronounce their verdict on Saturday night. The Wrestling Federation of India (WFI) had also scheduled a late night media conference, once the NADA gave its verdict.
The federation's assistant secretary, Vinod Tomar, was with the NADA panel since noon, although Narsingh and others came much later. The NADA lawyer was not present, but Navin Agarwal was in his office into the night.
The news of Narsingh returning a positive test, for an out-of-competition sample collected on June 25, became public on July 16. The wrestler, who has alleged conspiracy and claimed his water was spiked at his Sports Authority of India, Sonepat training centre, suffered a fresh setback after a second sample taken on July 5 too turned out positive for the same anabolic steroid, metandienone.
India have already named a replacement for the Rio Games in the 74kg freestyle category. If the NADA panel finds him guilty, Narsingh could be slapped a four-year ban.
The wrestler won a bronze medal at the November world championships in Las Vegas to earn a qualification berth for India in the category. Later, a petition by double Olympic-medallist, Sushil Kumar, seeking trials with Narsingh to go to Rio was quashed by the Delhi high court.
Close Story