Police crackdown begins in violence-hit epicentre of MP farmers' protest
Hindustan Times, Mandsaur |
Punya Priya Mitra and Aman Sethi
Jun 12, 2017 07:29 AM IST
Madhya Pradesh chief minister ‪Shivraj Singh Chouhan's fast against violence in Mandsaur entered its second day ‪on Sunday.
Fear stalks the narrow cemented roads of Bahi Parsavnath and Balaguda, the two Patidar-dominated Madhya Pradesh villages on the Mhow-Neemuch highway, where a police crackdown is on.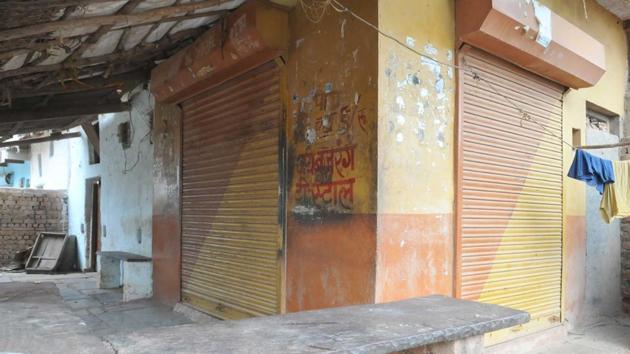 The two villages, which are 15km away from Mandsaur, were the epicentre of farmers' protest where police firing on June 6 left five people dead after which angry farmers set fire to scores of trucks along the highway. The toll rose to six after an injured farmer died on Friday.
It is about 3pm on Saturday when HT team reaches Bahi Parsavnath.
There is no curfew but the choupal, by the side of the village temple, is deserted. We see a young man peeping from a house nearby and call him. He walks towards us tentatively but relaxes a bit when we tell him we are from the media and want to know whether police made arrests in the village.
"I thought you were police in civil dress because of the white SUV you are travelling in," he says.
Slowly, people start appearing from all sides and surround us, eager to share details of police action in the last two days. A few women, all of them veiled, watch from a distance.
"More than 50 men in blue uniform in four vehicles came to the village with two policemen from the local police station and started beating people mercilessly," says a villager.
Police picked up three men, Kamlesh Patidar, the son of the local patel, Shivlal Patidar and Narendra Sharma on June 8, he says, refusing to be identified. "I fear police will target me if you write my name."
Patel is an honorific for a rich and influential man with a big land holding.
Personnel from the Rapid Action Force, who stand out in their blue uniforms and are trained in riot and crowd control as well as rescue and relief, have been helping police to check the spread of violence.
Black and blue
"Police are making rounds of the village, two or three times a day. We are not venturing out in the open out of fear," says a youth.
Mandsaur superintendent of police Manoj Kumar Singh said they were not targeting anyone but had detained people on the information they had and were tallying it with the video footage of the stone-pelting and vandalising mobs.
A man who is a contractual teacher in a neighbouring district unbuttons his shirt to show us deep blue marks left on his back by police canes.
"This is how they are beating us. They dragged out some young kids from their homes but their mothers fell on the feet of RAF and they let go of the kids. It was a terrifying moment for all of us," he says, recalling events of June 8, the first day security forces visited the village.
Though some villagers are facing cases under the NDPS (narcotic drugs and psychotropic substances) act, Bahi Parsavnath is a peaceful village not given to violence, says another man.
Mandsaur and Neemuch, which are part of the Malwa belt in Madhya Pradesh, have swathes of poppy fields that produce the bulk of licensed opium in the country. Under-reporting of produce is rampant and smuggling a lucrative business. The area also has a drug problem.
The villagers do not know where the three men who were picked up are being held or the charges against them.
Their families have left the village and could not be contacted. No one from the village has risked finding out about the men.
"We may be picked up and slapped with false charges," says a villager.
His fear is not unfounded as a posse of police guards the village entry and keep their eyes peeled on anyone trying to cross to the highway through the fields.
Police say the arsonists who blocked the highway on June 6 and 7 and burnt vehicles were mainly from Bahi Parsavnath and Balaguda, a charge denied by the villagers.
"How can police say this? We do not know who these people were. They might have come from Rajasthan, which is just 14km away. There are over a dozen villages along the road. Why are they targeting only us?" asks a man.
Fear factor
Four kilometres down the road in Balaguda, villagers wait and watch the HT team from a distance before opening up.
The fear of police is hard to miss.
"No one has been arrested because most of the people police were looking for have run away," says a youth, adding police have taken away a dozen motorcycles and "even burnt a car".
The men deny that anyone from the village was involved in the violence on the highway but say farmers reacted to police brutality.
Most of the men who were detained were not being held in local police stations but were taken to the neighbouring Ujjain and Ratlam districts, police sources said.
"We do not want them to come in hoards at the police station to create pressure on us," an officer said.
HT wrote on Sunday that people were crowding police stations seeking release of men arrested for creating trouble. The protestors were using messaging platforms like WhatsApp to coordinate their actions, police said.