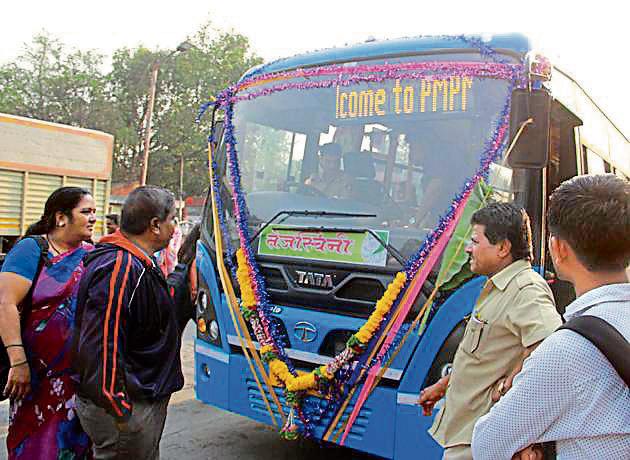 10 years on, Pune BRT fails to address commuters' woes
When introduced, the Bus Rapid Transit (BRT) looked like a dream project which will improve passenger commuting issues. However, a lack of proper planning, and a lack of accountability has left the project short of its goals.
Hindustan Times, Pune | By Jui Dharwadkar
UPDATED ON APR 02, 2018 03:19 PM IST
Bus Rapid Transit (BRT) system which was introduced in Pune as a pilot project over a decade ago has till date not implemented all the basic necessary systems and has hence failed to improve commuting woes of passengers in Pune, said city-based activists at a BRT discussion session organised on Sunday.
The session was organised by city-based NGO Sajag Nagrik Manch, which works for spreading awareness about RTI and PMPML Pravasi Manch, working for the betterment of Pune Mahanagar Parivahan Mahamandal Limited (PMPML) service in the city. PMPML's joint managing director Ajay Charthankar was the chief guest for the session. City-based activists, including Qaneez Sukhrani and Pranjali Deshpande working with the Institute of Transport and Development Policy (ITDP), an organisation which helps the government come up with sustainable transport policy; Jugal Rathi of PMPML Pravasi Manch and Vivek Velankar from Sajag Nagrik manch were among those present.
Rathi said, "The pilot BRT project, whose foundation stone laying ceremony was held at Swargate, looked like a dream project which will improve passenger commuting issues. Yet, till date, nothing much has happened. There is no end-to-end corridor dedicated for BRT, the power supply is shut many times on BRT routes and the level boarding too is not designed well."
Qaneez Sukhrani said, "The present BRT system lacks detailed planning and since its introduction is being implemented at random. There is presently no body accountable for the shortcomings of BRT. A BRT cell is presently essential which is not in place."
Sukhrani added that the basic BRT terminal in place itself is not proper. "The automatic doors which are expected to detect incoming buses are always open. Water gets accumulated around the terminal during rainy season, there are no toilets and the lighting is not proper making it unsafe during nights," said Sukhrani.
She added that we need a proper Detailed Project Report (DPR) while implementing BRT.
Pranjali Deshpande gave a presentation on a recent survey conducted by Institute of Transport and Development Policy on passenger reactions about BRT in Pune and Pimpri-Chinchwad. "The survey pointed out that usage of BRT by commuters was up to just 12-17 per cent while many complained of less frequency of buses as a major issue," said Deshpande.
She added that passengers also highlighted the issue of lack of cleanliness at BRT terminals. Deshpande stressed on the need for a proper vision and appointing designer to create complete street designs of BRT corridor with proper Metro alignment. She also stressed on periodic assessment of each corridor of BRT infrastructure and operations and setting bench marks for the same.
PMPML hopes to add more buses to fleet
Sharing his views, Ajay Charthankar, PMPML joint managing director, said that less number of buses is the basic issue that PMPML is presently facing. "To make the Swargate to Katraj BRT route operational, PMPML requires 314 buses with right door side. Till we have these buses we cannot make this route operational. Also for developing infrastructure, PMPML is dependent on the Pune and Pimpri Chinchwad Municipal Corporations. " He stated that PMPML is trying to lower this dependency in the future by lowering its operational losses. Charthankar said, "Presently, PMPML is plying 11 lakh commuters daily and our target is to take this number to 15 lakh commuters. Our biggest issue is the number of buses. Presently PMPML has 1,292 buses and an additional 678 buses from private contractors. Out of the 1,292 buses, everyday on road there are only 1,100 buses. The reason for this is that there are many buses are old and continuously need maintenance, which is proving to be costly for PMPML," said Charthankar. He added that PMPML ideally requires close to 3,450 buses. "Presently the decision of getting 400 diesel and 400 CNG buses is pending. Once this decision is taken and if PMPML can add 800 to 1,000 more buses to its fleet, then it will solve many of the major issues," he added.
Close