750 people form human chain to save Dr Salim Ali Bird Sanctuary in Pune
Hindustan Times, Pune |
Parth Welankar
Dec 10, 2018 02:30 PM IST
Residents allege that the civic authorities are ignoring the sad state of the natural habitat
Around 750 residents including children formed a human chain in Yerawada on Saturday morning to demand the restoration of the Dr Salim Ali Bird Park which is in an acute state of neglect.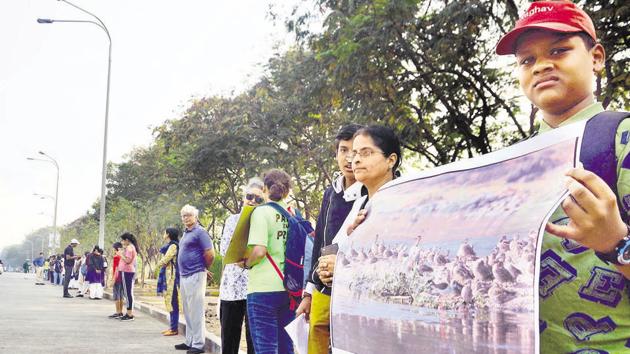 The initiative to save the bird sanctuary was undertaken by Swacch Kalyaninagar team and Friends of Salim Ali Bird Sanctuary and saw the participation of many residents and students from School of Life, Kharadi, St. John's School, Convent Street, Camp, Dr Erin Nagarvala School, Kalyaninagar and Symbiosis School of Media Studies, Vimannagar.
The natural bird sanctuary on the Mula-Mutha river bank that was dedicated to the memory of the great ornithologist Dr Salim Ali nearly two decades ago and has been suffering acute neglect from the Pune municipal corporation (PMC) and the Pune district collectorate authorities.
Also, besides cutting of 500 trees by Pune's real estate firm, Panchshil group, others trees are being cut illegally and garbage is dumped in the sanctuary. But no action has been taken by the PMC either against illegal tree cutting nor any steps are taken to protect the sanctuary.
Dharmaraj Patil, an ornithologist, who participated in the human chain, said, "It is sad to see that the bird sanctuary which was so beautiful once upon a time has now come to such a defunct state. Trees have been cut for laying down concrete roads and many more are slated to be razed for the metro work. We have been fighting for it for the last couple of years but have received zero attention from government agencies."
He said the human chain was formed to draw the attention of the civic authorities to the deteriorating condition of the sanctuary.
Samir Nikam, a resident of Sangamwadi, said, "The small protest that we had started a couple of months ago has now transformed into a big movement with such a huge human chain being formed on Saturday. This is a first of its kind event when the city witnessed such a huge turnout for a cause related to the environment."
Nikam said that the community is hopeful that the government will take cognizance of the declining state of one of the important green belts in the city and take immediate steps to revamp it.