Bad roads: Pune's Hinjewadi IT companies lose Rs.25 crore per day
Hinjewadi Industries Association (HIA) representatives during a press conference said that the traffic chaos due to inadequate road condition is causing them a cumulative loss of Rs.25 crore every day.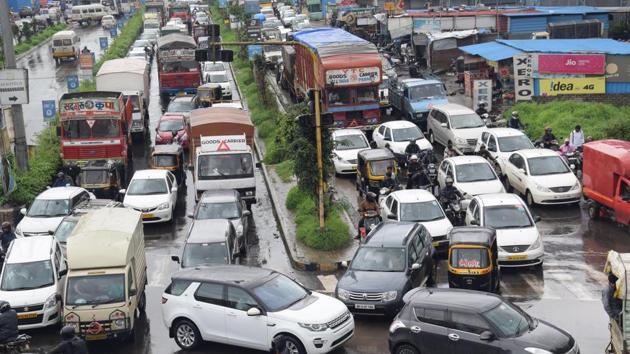 Updated on Mar 07, 2018 09:18 PM IST
Hindustan Times, Pune |
Shrinivas Deshpande
The Hinjewadi Industries Association (HIA) has blamed poor road infrastructure near Rajiv Gandhi Infotech Park (RGIP) for causing financial loss to software majors. The HIA representatives during a press conference on Wednesday said that the traffic chaos due to inadequate road condition is causing them a cumulative loss of Rs.25 crore every day.
"Because of traffic congestion, employees are unable to reach office on time. On an average every employee get stuck in traffic jam for 90 minutes. While offering services to overseas clients, IT companies charge them an average 25 USD/hour. So, with 1.5 lakh employees working in RGIP, the daily loss to IT firms due to getting stuck in traffic jams is collectively around Rs.25 crore," said Satish Pai, president, HIA
Pai said that the state government along with the district administration should take a serious note on the issue and work towards improving the road infrastructure near IT companies located around Hinjewadi. "There is only one main road to reach RGIP. We need four to five different entry points with wide roads," he said.
HIA has also been closely working with the police department, including the police commissioner, DCP (traffic) and at the local police level, and has provided sustained help to the police for safety, security and improve traffic control in the area. For better management and smooth flow of heavy traffic in RGIP, HIA provides 15 traffic wardens to the traffic police department, Pune. HIA has also provided equipment like road barriers, traffic cones and fluorescent jackets.
Speaking about the garbage issue, Charanjeet Bhogal, chief operating officer (CEO), HIA said, "After meeting guardian minister Girish Bapat, Maharashtra Industrial Development Corporation (MIDC) has initiated the process to install a garbage process plant and the work will start in the next six months."
On the security issue at RGIP, Col (retd) Yogesh Joshi, regional manager, security department at HIA said, "We had forwarded a proposal to MIDC to install 56 CCTV cameras and even identified the spots in RGIP, but the authority has asked us to install it from our own fund. RGIP does not have a single CCTV camera attached to central CCTV surveillance of the police department."
HIA was formed in 2008 and is now in its tenth year of existence. The Association formed as a trust under the Mumbai Public Trusts Act 1950 comprises volunteer companies that register as members and also provide Committee and Sub-Committee members to carry forward the common goals of development and improvement of the work environment in RGIP.
Meanwhile, delegation of HIA has organised meeting with the secretary of transport on ongoing issue of their MetroZip bus service. HIA have 110 buses for daily transport of employee but as because of empty return trips operator had gone in loss hence they are demanding use of bus on Saturday and Sunday for personal use.There is also possibility of HIA will give permission to stick advertise poster on bus.
Close Story