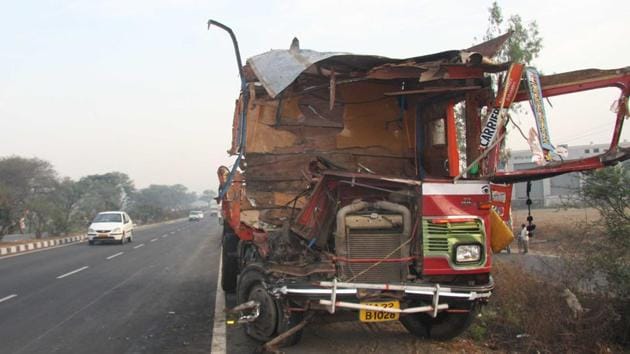 Parents of accident victim in Pune receive Rs 33.69 lakh compensation
The Motor Accident Tribunal, Pune has acted on several complaints, clearly pointing out that rash driving has a cost.
Hindustan Times, Pune | By Nadeem Inamdar
UPDATED ON MAY 09, 2018 05:36 PM IST
The Motor Accident Tribunal (MACT), Pune, has directed Babusha Gundappa Bhoj and Reliance General Insurance Company Ltd to jointly pay a compensation of Rs 33.69 lakh to the family members of an accident victim with an annual 7 per cent interest from the date of claim of the petition. SM Menjoge, the additional sessions judge, Pune, passed the order on May 4.
Jaya Jagdish Aapte (53) and her husband Jagdish Shripad Aapte (54) , both residents of Aajara tehsil in Kolhapur district of Western Maharashtra, had filed a compensation claim under Section 166 of Motor Vehicle Act for grant of compensation of Rs 60 lakh on grounds of negligence for the death of their daughter Rajashree Aapte (25) in a motor vehicle accident.
The complaint stated that on October 15, 2015, Rajashree was returning home from office on her two-wheeler. When she reached the Mutha river bridge on the Mumbai-Bengaluru Highway, a truck with registration number MH 12 LT6489, owned by Babusha Gundappa Bhoj, crashed against her scooter from the back. Rajashree sustained serious injuries and died in Navale Hospital on October 16, 2015. The Warje police registered an offence against the truck driver under Sections 304 A, and 279 of the Indian Penal Code (IPC).
The deceased worked as a business coordinator at Matrix Business Machines Private Ltd in Pune and had a monthly salary of Rs 16,576, according to the complaint.
Bhoj did not appear in court and the case proceeded ex-parte against him.
Reliance General Insurance Company, the insurer of the offending truck, filed a written reply. The insurer denied the age and income of the deceased as well as the manner of the accident as it is mentioned in the complaint. They also denied the allegation that the Bhoj was driving in a rash and negligent manner. However, the company went on to state that Bhoj did not have a valid driving license and that the truck did not have a permit.
The tribunal came to the conclusion that it was proved beyond reasonable doubt that Rajashree died as a result of negligent driving and that reliance insurance could not prove that their insurance policy terms were breached.
Embed code inline script for 'Mishap victim kin awarded Rs 33.69L' on Page 3 of Pune edition dated May 9.
Regarding the income of the deceased, the tribunal noted that she was BE (electronics and telecommunication) and had completed her engineering from Shivaji University, Kolhapur with distinction in 2013. Her SSC certificate also showed that the deceased secured 90.45 per cent marks. Looking at her past academic record, the tribunal observed that she had a bright future ahead of her, if in not for the accident.
The final order stated that the compensation amount shall be divided equally between the parents. Advocate ND Washimbekar appeared in court for the Aaptes while RH Bhatia,advocate, appeared in court for Reliance General Insurance Company.
Background
Rajashree Aapte (25) died in a motor vehicle accident on October 15, 2015, at Mutha river bridge on the Mumbai-Bengaluru Highway after a truck, driven by Babusha Gundappa Bhoj crashed against Rajashree's two-wheeler from the back.
Her parents, Jaya Aapte and Jagdish Aapte from Aajara filed a compensation application with Motor Accidents Claim Tribunal (MACT) on November 19, 2015.
The Aaptes claimed a compensation of Rs 60 lakh from Reliance General Insurance and truck owner, Bhoj.
MACT orders Reliance General Insurance and Bhoj to jointly pay a compensation of Rs 33.69 lakh
Close