St Mary's girls are Pune's under-17 football champs
Updated on Sep 24, 2017 11:14 PM IST
St Mary's girls claimed the under-17 title with an easy win over the fancied Bishop's team. Action now shifts to the finals of the senior boys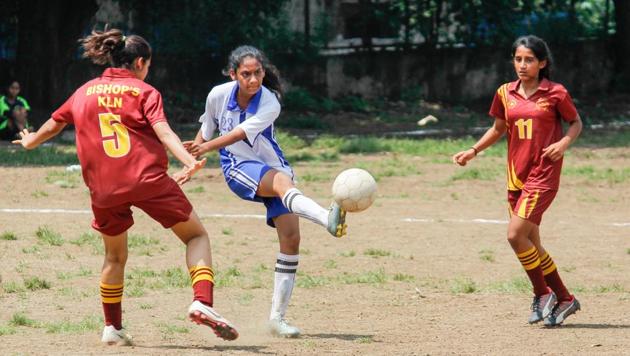 A goal each by Anushka Sahay and Jia Sundaram helped St Mary's High School win the girls under-17 inter-school football tournament, organised by the District Sports Council and Education Board, on Sunday. In the final St Mary's defeated Bishop's School, Kalyaninagar, 2-0.
Played at the SSPMS grounds, St Mary's took the lead through Anushka, who made no mistake in converting Devika Rajawade's pass in the 11th minute. Nine minutes later, star striker Jia doubled the lead with help from Anushka. With a comfortable 2-0 cushion, St Mary's girls maintained the pressure and didn't allow the Bishop's girls to score.
In the match for the third place, Angel Mickey and Mini High School defeated Gurukul Range Hills 4-3. Earlier in the semifinals, St Mary's defeated Angel Mickey and Mini High School 2-0. Jia Sundaram scored in the 13th minute while Devika Rajwade added one in the 17th minute.
In the other semifinal, Bishop's School, Kalyaninagar scored a 5-4 win over Gurukul Range Hills in the tie-breaker. Shivanjali Pandit, Swara Pathak, Vaibhavi Maid, Arshi Wadhwani and Samruddhi Mundhe scored for Bishop's. From Gurukul Revati Pandit, Sarika Gokhale, Devangi Nerkar, Smiti Rokle found the back of the net.
Poona College in summit clash
In the under-19 boys category, Poona College entered the finals with a sudden death win over Loyola High School and Junior College. After the match ended in a goalless deadlock, Santosh Rathod, Sandesh More, Kevin Robert and Raju Ram scored for Poona College in the tie-breaker.
From Loyola, Neeraj Gawali, Manas Nimhan, Utsav Goel and Yash Deshpande also converted their chances. However, in the sudden death, Neel John missed his opportunity, while Nabid Shaikh found the back of the net for Poona College.They will take on winners of St Patrick's High School and Bishop's School, Camp, on Monday.