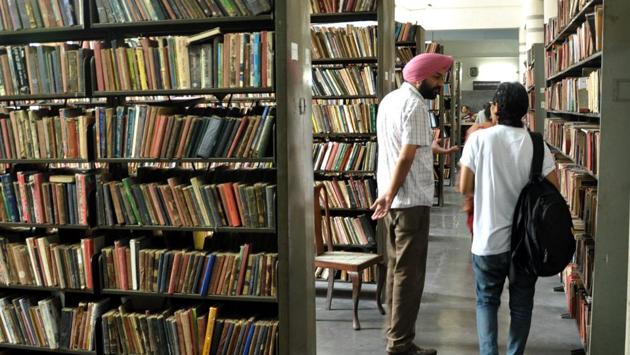 Punjab libraries cry for attention, most on verge of closure
The grimmer picture of libraries could be gauged from the fact that librarians were recruited last in 1998 and since then, no librarian has been appointed in any library till date.
UPDATED ON JUN 24, 2017 12:44 PM IST
The Punjab government has allocated Rs 5 crore to the state's only Central Library in Patiala for setting up an e-library in its maiden budget, but it is a sad state of affairs when it comes to public libraries across the state.
The 62 libraries in the state, including 14 district libraries and 48 libraries in government colleges, are almost on the verge of closure due to acute shortage of funds and staff. At least 75% posts of librarians and restorers have been lying vacant in the libraries across the state for the past many years.
The grimmer picture of libraries could be gauged from the fact that librarians were recruited last in 1998 and since then, no librarian has been appointed in any library till date.
Of the 96 sanctioned posts of librarians, 74 posts are lying vacant, while 47 posts of restorers are presently unoccupied out of the 72 sanctioned posts.
The department of higher education recently constituted a three-member committee to prepare a proposal for the revival of libraries.
"We have submitted a detailed proposal with the state government in which an amount of Rs 5 crore was sought for improving the condition of libraries. We suggested immediate recruitment of staff in these libraries," said Jagtar Singh, a committee member.
GOVT COLLEGES IGNORED
Tall claims of respective state governments to improve the standard of higher education seem to have fallen flat as libraries in 34 government colleges of the total 48 are working without librarians.
Out of 68 posts of librarians in government colleges, 52 are lying vacant. Of the 50 sanctioned posts of restorers in government colleges, 37 are vacant.
The colleges in the remote border areas of Punjab, including, Bhojewal, Patti, Bholath, Fazilka, Jandiala, Jagraon, Kala Afghana, Kotakpura, Mansa, Malerkotla, Sardulgarh, Ajnala, Bathinda and Patran are the worst affected.
In many government colleges, either lecturers or Class four employees are looking after library affairs.
DISTRICT LIBRARIES ON VERGE OF CLOSURE
The situation in 14 district libraries is no better as 23 posts out of the sanctioned 28 posts are lying vacant. The department of higher education has made a stopgap arrangement to run these libraries With drawing and disbursing office (DDO) powers to working five librarians.
The district libraries in Bathinda, Fatehgarh Sahib, Nabha, Hoshiarpur and Mansa are headed by Class 4 employees. A library at Hoshiarpur has been shut down as the only Class 4 employee retired in March this year. Of the total 22 posts of restorers, 13 are lying vacant.
Barjinder Pal Dhiman, president, Punjab College and District Librarians Association, said they have approached education minister Aruna Chaudhary and secretary, higher education, twice since the Congress government came to power in March, but have failed to elicit any response.
"Leave aside appointments, there is no budget for the libraries to sustain. In many libraries, there is no money even to pay bills of newspapers," he said.
He added that due to shortage of manpower, books are not removed for years from the shelves, as a result of which they are being eaten up by moths and termites.
"If the government fails to take a serious note of sorry state of affairs, libraries are likely to become a history in Punjab," he added.
OFFICIAL TAKE
Anurag Verma, secretary of higher education, said the matter was brought to his notice and the office of director of public instructions (DPI) has been directed to submit a report on vacancies of librarians and restorers.
"A group of youths from Hoshiarpur met me recently regarding the closure of the library there. I will bring the matter to the notice of the higher education minister, following which it will be decided to fill vacant posts either through the Punjab Subordinate Service Selection Board or the Punjab Public Service Commission (PPSC)," Verma said.
Close