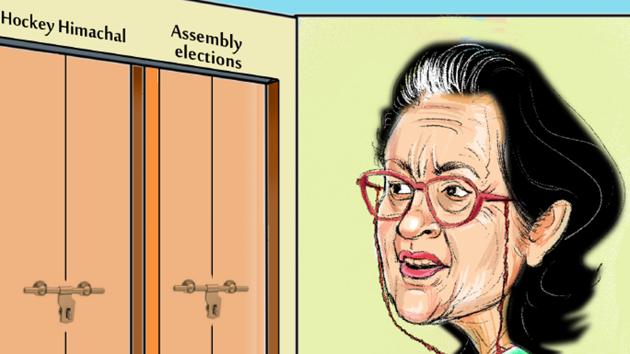 Regional buzz: Dhillon's Punjabi switch and Navjot Singh Sidhu's 'bill da maamla'
From VP Singh Badnore asking BS Dhillon to speak in Punjabi to when Sherry said sorry, here is the round up of all that is making news in the region.
Hindustan Times | By Team HT
UPDATED ON APR 02, 2018 12:30 PM IST
Keeping tabs on power politics in Punjab, Haryana, Himachal Pradesh and J&K:
Dhillon's Punjabi switch
Punjab governor VP Singh Badnore, who hails from Rajasthan, showed his concern for Punjabi language during a 'kisan mela' organised by the Punjab Agricultural University on Tuesday. PAU vice-chancellor Dr BS Dhillon was addressing the farmers in Hindi, but Badnore, who is also chancellor of PAU, felt farmers could be facing difficulty in understanding the vice-chancellor's speech. He intervened and asked Dhillon to speak in Punjabi. The PAU VC also immediately made the switch. Punjabi actor Jaswinder Bhalla, a faculty member at PAU and was anchoring the event, thanked the governor for his intervention without wasting any time.
On fool's day, SAD-BJP take potshots at Capt
Punjab chief minister Captain Amarinder Singh had promised free smartphones and unemployment allowance to youth in the run up to the state assembly elections last year. While he has repeatedly blamed "empty coffers" left by the previous Akali-BJP government for the time his government is taking to fulfil its poll promises, Shiromani Akali Dal (SAD) workers in Amritsar came up with a nifty idea to "remind" Capt his promises. They distributed dummy smartphones carrying the chief minister's photograph and fake currency notes on April 1, the annual day for tomfoolery, accusing him of "fooling" the people of the state.
Sidhu's bill da mamla
Punjab local bodies minister Navjot Singh Sidhu was in the news last week for a notice from income tax authorities over tax dues and the subsequent sealing of his two bank accounts. The minister said this happened because the notices went to his house in Patiala. "I haven't been going there for some time. The IT notices were sent on that address," said the minister who has been living in Amritsar ever since he got elected from there, first to the Lok Sabha and then to the state assembly. He also has a ministerial bungalow in Chandigarh now. "They sealed my bank accounts, but these were released when I deposited Rs 52 lakh," he claimed. The notice was sent as the Congress leader had failed to submit bills for the expenditure claimed on staff, travel, clothes and fuel for vehicles.
Anurag replaces Stokes as Himachal hockey chief
Veteran Congress leader Vidya Stokes had an unceremonious exit from public life after her nomination papers got rejected during the recent state assembly elections due to a mix-up. Now, something similar has happened with her again – an abrupt sendoff as chief of Hockey Himachal. The sports body did not even invite the former minister to the elections held the other day. Take a guess who is the new chief? Anurag Thakur, the cricket administrator-turned-politician who also heads Himachal Olympic Association. Her only response was: "They haven't done right".
When Sherry said sorry
Navjot Singh Sidhu also made amends by publicly apologising to former Prime Minister Manmohan Singh during the 84th plenary session of Congress for his past remarks. Sidhu termed him both "a sardar and also asardar (effective)", triggering an instant wave of jibes from the opposition leaders and social media users for his change of heart. The cricketer-turned-politician's clever footwork did not go down well with many who posted on social media videos and memes comparing the speeches he made during his days in the Bharatiya Janata Party (BJP) and the one he delivered at the Congress meet last week. In the older videos, he is seen taking digs at both Manmohan Singh and Sonia Gandhi. But, then, like it or not, he is entitled to change his view.
Farmers jeer at Birender, Dhankar
Union steel minister Birender Singh and Haryana agriculture minister OP Dhankar had to face hooting from angry farmers during their address at the 'Agri Summit' organised in Rohtak recently. The farmers created so much ruckus that both ministers had to cut short their speech and spend most of the time requesting farmers to maintain silence. Union minister Nitin Gadkari, who spoke next, managed to calm the farmers and complete his address without too much trouble. But, soon after his address ended, farmers started hooting again and forced Himachal governor Acharya Devvrat to cut short his speech. The farmers were angry at non-procurement of mustard crop by the state government due to which they were forced to sell to private players at lower rates than MSP. Of the quartet, the three leaders - Singh, Dhankar and Devvrat – who faced the ire are from Haryana. Guess one doesn't need to try too hard to get the message.
Social media boost for Beti Bachao
Civil society in Haryana has taken an initiative to initiate a dialogue on central government's Beti Bachao-Beti Padhao (BBBP) programme by using social media platform WhatsApp. Following sharing of thoughts and ideas, the WhatsApp group "Beti Bachao-Beti Padhao" created by parents having daughters have presented a memorandum to the governor suggesting fresh provisions to incentive girl child. This included 1 % reservation in government jobs for those girls who do not have any male sibling, fee waiver for medical, engineering and other professional courses for such girls and special scholarships. They have also suggested increase in retirement age of parents having only daughters.
Haryana oppn getting poll-ready
Women's wings of the opposition parties, the Indian National Lok Dal (INLD) and the Congress, in Haryana appear to have got more active with just a year to go for the parliamentary polls. While INLD leader Naina Chautala is holding "Hari Chunari ki Chaupal" for the past several months, the Congress has also started "Mahila Chaupal'' and "Main Saahas Hoon'' (I am the courage) programmes in which free legal aid is offered to women. The two Congress programmes would be chaired by AICC media in-charge Randeep Surjewala in coming few weeks. Haryana Congress' women wing chairperson Sumitra Chauhan held several meetings for the said programmes last week.
Row over HP central varsity intensifies
The controversy surrounding the location of the Central University campus in Himachal Pradesh has got reignited after chief minister Jai Ram Thakur stated that the foundation stone would be laid in Dehra soon. The announcement has led to a war of words between consumer affairs minister Kishan Kapoor and Congress leader and former Dharamshala MLA Sudhir Sharma. Kapoor blamed Sharma for the delay in setting up of campus whereas the latter has hit back by accusing the minister of abandoning the campus demand for a ministerial berth. Now, it remains to seen whether the university, which has been functioning from a temporary academic block for the past eight years, will finally get its own campus or not.
(Contributed by Sachin Sharma, Navneet Sharma, Gurpreet Singh Nibber, Surjit Singh, Hardik Anand, Hitender Rao, Rajesh Moudgil, Naresh K Thakur)
Close