Use money for farmers than return penal rent to Bhattal: Sukhpal Khaira to CM
Updated on Sep 24, 2017 09:33 AM IST
AAP's Sukhpal Khaira accused the government of fudging data on suicides.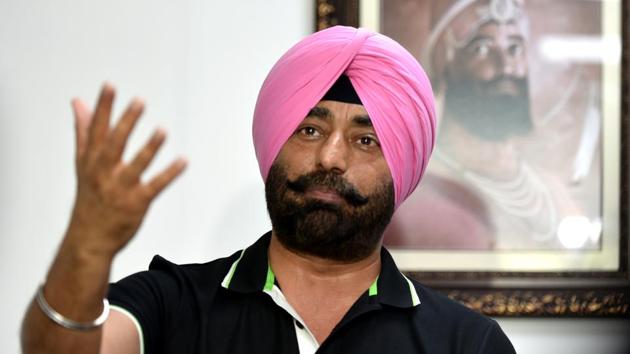 Hindustan Times, Chandigarh |
HT Correspondent
Leader of opposition in the Punjab Vidhan Sabha Sukhpal Khaira on Saturday hit out at chief minister Capt Amarinder Singh for the government's decision to pay back Rs 84 lakh penal rent levied on former CM Rajinder Kaur Bhattal for overstaying in her official bungalow.
In a statement, the AAP leader said it was a perfect example of "wrong priorities, feudalism, favouritism and nepotism" by Amarinder, particularly at a time when Punjab is facing bankruptcy and its agrarian economy is under a debt of Rs1 lakh crore.
"The money could have been used for writing off the debt of many small and marginal farmers and saving them from suicides.While on one hand, finance minister Manpreet Badal is advocating shunning one meal to help farmers tide over debt crisis, the cabinet on the other is showering largesse on a wealthy leader like Bhattal. It also amounts to encouraging politicians to break the laws, only to be compensated through the public exchequer," he said, asking the CM to reverse the order and Bhattal not to accept it at a time farmers were committing suicides for meagre sums.
He also accused the government of fudging data on suicides. "The CM is claiming that only 131 farmers committed suicides during the six months of his tenure saying the figure is less than the corresponding period during the Badal rule in 2016. This is nothing but a bundle of lies. The data collected by my Vidhan Sabha office reveals that as many as 211 farmers committed suicides against 131 as claimed by the CM," he said.
He said Amarinder's attitude towards the farmer organisations protesting against debt waiver in Punjab was "dictatorial". "The government is arresting them and silencing them through the draconian police. The recent notification of debt waiver was aimed at political gains in the upcoming Gurdaspur bypoll.