Aerial shots, 3D photos: Drones are making home buying easier
Hindustan Times |
Neha Chokhani
Sep 29, 2018 04:45 PM IST
They can help in supervision of under-construction sites, let buyers experience the site using virtual walk-throughs.
There's finally some clarity on the use of drones in India, and the real-estate industry is among those waiting for the December norms to kick in.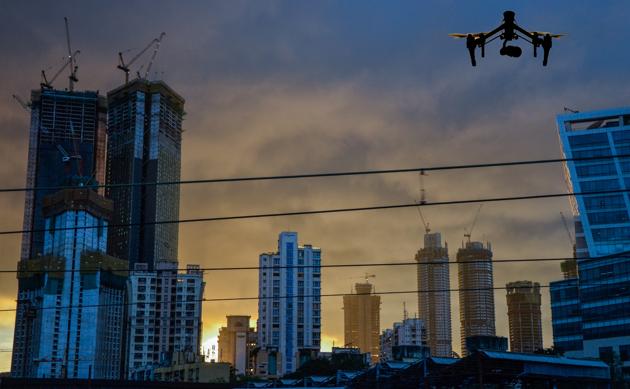 Drones have considerable potential as a marketing tool, as well as for supervision of under-construction sites in the real estate industry. Aerial photography and videos will be able to provide precise details of a space to potential buyers.
"They can also be used to keep a schedule on track and reduce downtime, ensuring efficiency of workers onsite. Detailed shots taken from a drone can keep project managers and promoters up-to-date on progress, especially in large construction sites like townships, highways and airports," says Devang Varma, director of Omkar Realtors.
It's an exciting idea for developers because CAD drawings and graphic simulations can now be replaced by real, on-site visuals; buyers can track their building as it comes up.
"Drones are invaluable when it comes to 3D imagery and virtual walkthroughs, which can help buyers of residential and commercial real estate make more informed decisions," says Anuj Puri, chairman of Anarock Property Consultants. "Drones have already seen wide-scale adoption for marketing purposes in Europe and America. In India, drone-based property marketing has been nascent and can now be expected to grow."
What we are about to experience is a complete transformation of how real estate projects are marketed, says Amit Wadhwani, managing director at Sai Estate Consultants. "So far, buyer involvement in the building process has been relatively low. They could have only a vague understanding of what their future home would look like. With the new drone policy, it will now be possible for buyers see, for instance, the exact distance between two buildings, existing infrastructures, amenities and everything else."
Drone technology in marketing will allow consumers to create an emotional connect with the property. "Instead of still photographs and blueprints, drone videos will let the buyer experience the project, access minute details of layout and design. Aerial photos will capture more too," says Manoj Asrani, first executive at Brick Asset, real estate consultants.
Effective photography is one of the key elements in the selling process, Asrani adds. "It is more impactful to show a bird's eye view of a property and allow potential buyers to take a 3D tour of the neighbourhood as well."
The impact isn't going to be restricted to real-estate marketing but also influence the construction process. Construction activity can be measured and surveyed more comprehensively and accurately. "Going ahead, we believe drones will play a key role in 3D mapping, surveillance of projects etc," says Prasoon Chauhan, CEO at HomeKraft, a real estate development company. "Drones can help in quality-control and inspection on site. When it comes to planning, the technology has helped immensely to conceptualise what development is going to be, because more often it is difficult to do so just from a set of plans," says Amit Ruparel, MD of Ruparel Realty.
Safety and workflow surveys, digital photography and documentation, monitoring and improving worker safety will get a boost too. "The data collected using drones can also be used to compare original plans with the ongoing construction work to show customers how a site is progressing" adds Ashish Shah, chief operating officer at Radius Developers.
The buyer's expectations are on the rise and the use of drone technology is going to aid the developers and builders to meet them in a more creative and rewarding way, says Wadhwani. "We believe it won't be long before potential buyers are asking for drone videos instead of brochures."