Kayamkulam Kochunni movie review: Nivin Pauly's film is about an oppressed community's liberation
Updated on Oct 11, 2018 06:44 PM IST
Kayamkulam Kochunni movie review: Nivin Pauly plays a man oppressed by his society who vows to take revenge against those who did him wrong.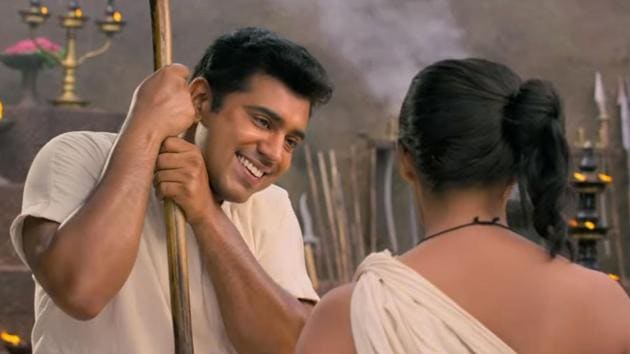 Kayamkulam Kochunni
Director: Rosshan Andrews
Cast: Nivin Pauly, Mohanlal, Priya Anand
Rating: 3/5
Kayamkulam Kochunni is about a thief's son, who swears to be nothing like his father. It is about a revolutionary who is forced to forge the path towards greatness. Kayamkulam Kochunni was not a petty thief and Nivin Pauly starrer is all about giving the audience a peek into why a man from the lower castes in 18th century India made the choices he did.
A child doesn't understand morality as a spectrum. It is either right or wrong, so when Kochunni's father is caught stealing food and is tied to a tree as punishment, the young boy is scarred for life. He is torn between the love for his father and the ethics that were then dictated by the society around him. The young boy leaves home on his mother's insistence, gets as far away as possible from the reputation of being called the son of a thief.
He grows up to be a caring neighbour, a loyal employee and a sincere lover, but as fate would have it, the young man is caught in a web of lies spun by the upperclassmen. Kayamkulam Kochunni is a true case study of how oppression affects the everyday decisions of a person. It is more about Kochunni's personal journey than the political repercussions his actions caused and finally, it's about liberation.
The essence of liberation truly lies in how tough the fight that preceded the freedom is. Isn't the victory sweeter when the fight has been tough? Actor Mohanlal as Ithikkaran Pakki, helps Kochunni, played by Nivin Pauly and helps his transition from an oppressed man to a man seeking vengeance. Ithikkaran is the man who Kochunni feared, and now trained by this eccentric thief, Kochunni gets set to take the upper class men to task.
Kochunni is India's Robin Hood who stole from the rich to help the poor. He faces betrayal, insult, and more but through it all, Kochunni gets support from the people he has helped rise from poverty.
The oppression is not spoken of in the film in strong words, but action speaks louder on screen. The cinematography by by Nirav Shah and Binod Pradhan helps small gesture speak more. For instance, the beautiful sequence of men forming a pyramid, and Kochunni and his nemesis from his younger days fighting inside the circle of this human pyramid is a stunning shot that is a visual metaphor of how oppression is a struggle that stays closed. Only fighting against it will help one break out of it. The climax sequence, reportedly shot by Nirav Shah portrays liberation breathtakingly and throughout it all, the martial art form Kalari underlines the role that power played. All of it, stunning - and yet subtle.
The music by Gopi Sundar, especially the background score whenever Mohanlal appears and the climax track elevates the scenes from being just a cliche.
Nivin Pauly's Kayamkulam Kochunni is the journey of a man who helped his people start a revolution against the oppressors in power. This struggle is not just important to understand what happened in the past, but could also be instrumental in changing mindset for a better future.
Follow @htshowbiz for more
ott:10:ht-entertainment_listing-desktop
Personalise your news feed. Follow trending topics