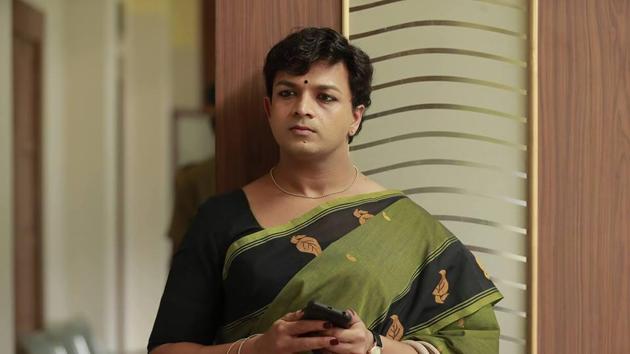 Njan Marykutty movie review: Jayasurya's film questions prejudice against transgenders with élan
Njan Marykutty, starring Jayasurya, is a beautiful story of a transgender who faces prejudice from society but fights on. The film is made better, thanks to a graceful performance by its lead actor.
UPDATED ON JUN 23, 2018 02:59 PM IST
Njan Marykutty
Director: Ranjith Sankar
Cast: Jayasurya, Aju Varghese
Rating: 3.5/5
Jayasurya's Njan Marykutty is a beautiful tale about a woman who faces gender stereotype, harassment and prejudice from society, yet fights the good fight to make her dreams come true.
That Marykutty is portrayed by a man, wonderfully, is surprising. Not because we doubt his talent, but the grace with which he plays Marykutty as a man is truly marvellous.
While playing the role of a transgender — in plays and on silver screen — characters are overtly feminine and in your face, which make them otherworldly. Marykutty, on the other hand, is relatable. The way she runs her hand through her hair, the way she smiles, sits and walks — it's a slice of life film.
Not only the behaviour, but the way Jayasurya has portrayed emotions of happiness, frustration, shame or just being a woman is done with such poise that one would not at any point recognise Jayasurya in the movie. It's Mary that we travel with.
Mary is imprisoned by a police officer who has her stripped because for all he cares Mary is a man. The frustration, the desperation mixed in with shame that plays on Marykutty's face as she stares at the shadow of her father who curses her for being born is heartbreaking. As her tears flow, it is hard to hold on to our prejudice against her gender, or her as an individual. And that is where the film scores big time.
It has the potential to change the mindset of people and inspire those who are victim to the system and society that holds an unfair opinion about transgenders. It is not preachy though.
In the film, Marykutty hosts a radio show called Happiness Hour in which she answers questions from viewers and tries to give them some comfort. When her father, who doesn't realize the host is his son who has chosen to become a woman calls her and congratulates her, Mary sheds a single happy tear. Understated, but so powerful and that is how the entire movie is: poignant at places, inspiring and relatable.
Feminism and gender identity are two complex subjects to make a film on, but director Ranjith Sankar has excelled with his method of storytelling. While overcoming difficulties to achieve dreams is a plot that we have see innumerable times, it's the nuances in Njan Marykutty that wins over.
For example, the scene of Mary trying to surprise her mom on her birthday with a sari as a gift is ruined by her father disowning her in front of her sisters-in-law. Here, we do not see melodrama. What we see is how this individual who chose to be a woman is abandoned by her family and yet stays strong. She doesn't give excuses, but in fact chooses to see a silver lining.
When she is disrespected on streets for her choice, when the regressive society that she lives in crosses all limits and violates her privacy and sexually harasses her, she goes through it all and yet stays focussed. For her, making her dream a reality is more important — like she says, "It's not a lost cause. We can always fight till we actually lose."
Njan Marykutty is a tale that transcends gender divide and questions your mindset set by the society. This film changes you as a person and will certainly change how you treat others, and it will inspire others to stay strong and not give up even when things get worse.
Follow @htshowbiz for more
ott:10:ht-entertainment_listing-desktop

Close