Ronaldo breaks all-time record for most goals in competitive football with stunning hat-trick against Tottenham - WATCH
Published on Mar 13, 2022 07:05 AM IST
With his three sensational strikes, Ronaldo became the leading goal scorer in the history of the sport, surpassing football great Josef Bican.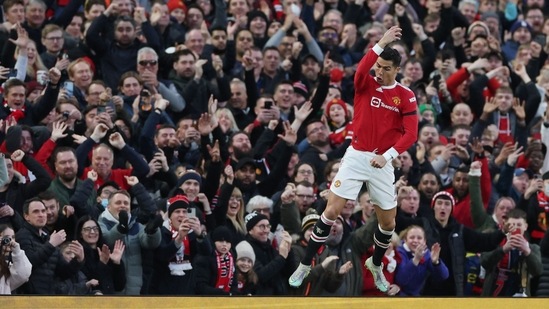 Manchester United legend Cristiano Ronaldo etched his name in the history of competitive football with a stunning hat-trick in the Premier League game against Tottenham Hotspur at the Old Trafford on Saturday. Ronaldo, with his first two goals of the game, became the leading goal scorer in the history of the sport, surpassing football great Josef Bican.
Just minutes after referee and VAR did not pay heed to Ronaldo's appeal for a handball, the 37-year-old sent a rising curler from 25 yards out into the top left leaving Hugo Lloris a mere spectator to the spectacular attempt as the home team went 1-0 up in just the 12th minute of the game.
Harry Kane then converted from the spot in the 36th minute, despite David de Gea going the right way as Spurs levelled the score but Ronaldo restored the lead just two minutes later after Jadan Sancho teed him up perfectly for the record goal.
With the strike, Ronaldo became Fifa's official all-time leading scorer with 806 goals. Breaking down his tally, 135 of those goals came for Manchester United, 450 for Real Madrid, 101 for Juventus, 115 for Portugal and five for Sporting.
Ronaldo scored his 807th goal – which also turned out to be the deciding one – to not only complete his first hat-trick since his return to United, but also steer the home side to a 3-2 win over Tottenham.
Watch his third goal:
Ronaldo surpassed Bican, who had held the record since 1956. In 530 games played during his illustrious 25-year-long career, Bican scored 805 goals, 395 of which were scored in 217 matches for Slavia Prague. Although, it is claimed that Bican had scored over 1500 goals in his career, FIFA had recognised only 805 of those strikes.
Barzilian legend Romario stands third on the list with 772 goals in 994 games between 1985 and 2007 while Ronaldo's arch-rival Messi stands fourth on the list with 759 goals in 961 matches since his debut in 2003.
The twin strikes also made Ronaldo only the third player aged 37 and above to score at least a brace in a Premier League game Teddy Sheringham (once) and Graham Alexander (twice).
Personalise your news feed. Follow trending topics