The areas where approvals have been granted include Pitampura, sectors 7 and 8 in Rohini, and Patparganj

Updated on Nov 22, 2023 06:19 AM IST
With AirFibre, Reliance Jio aims to provide 1,50,000 connections per day.

Published on Aug 28, 2023 03:26 PM IST
The Prime Minister has said that India will stand along with the world in 5G and take the lead in 6G.

Published on May 24, 2023 09:49 PM IST
Amit D Mishra, co-founder and chief executive officer of talent upskill firm iMocha, spoke to Hindustan Times on a wide range of issues including upskill programmes for 5G technology, talent re-skill and of course, moonlighting.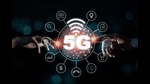 Published on Nov 07, 2022 10:02 AM IST
As the telecom giants have unveiled their plans to woo the customers, certain anti-social elements looking to dupe the customers have also surfaced.


Updated on Oct 15, 2022 03:41 PM IST