The IMF official pointed to the success of technological innovations in India and the use of the unique identification system, the Aadhaar, in making the cash transfer scheme a success.


Updated on Oct 13, 2022 07:20 AM IST
An Aadhaar card contains your name, date of birth, contact number, address and last but not the least, a 12-digit identity number. From time to time, the Unique Identification Authority of India (UIDAI) urges the users to review their Aadhaar data and apply for changes if any update is required.


Published on Sep 14, 2022 11:21 AM IST
In a statement issued in the backdrop of 'Rashtriya Poshan Maah', which is being celebrated across the country from September 1 to 30, the ministry said, "A total of 98.4 million beneficiaries have been registered under the Poshan Tracker as on September 2. Out of these, close to 80.2 % of beneficiaries registered on the Poshan Tracker have been successfully Aadhar seeded."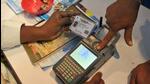 Updated on Sep 14, 2022 04:53 AM IST
ITRs should be verified within a month of being filed or else these will not be processed.


Published on Aug 08, 2022 08:49 AM IST
Earlier this month, the Indian Railways increased, from 12 to 24, the maximum number of monthly bookings that an IRCTC user, with Aadhaar-linked user ID, was allowed to make.


Published on Jun 25, 2022 06:49 PM IST